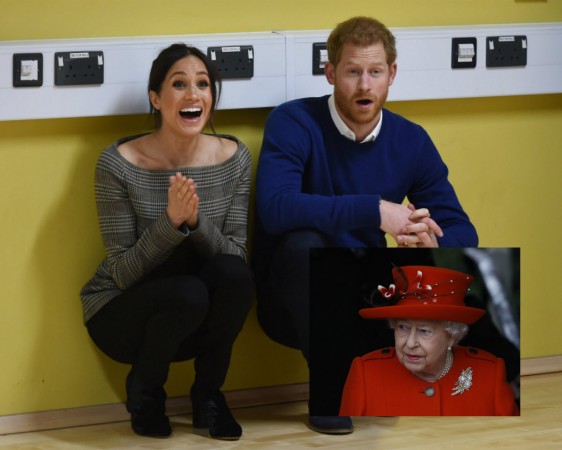 Meghan Markle hasn't been your conventional royal-to-be. The American actress, who is set to marry Prince Harry in May, has been drawing more criticism than praise ever since the couple's relationship and engagement was made official.
Unlike any previous royals, the former Suits actress has been in the news for her unique style, her now famous hugs and her decision to sport a Hollywood-style engagement dress. All these negativity has led to a rumour to be born. According to the grapevine, the Queen is unhappy with Markle's public image and has ordered her to head to "royal boot camp."
Also read: Pregnant Kate Middleton, Meghan Markle 'plotting' to get Camilla thrown out of Palace?
With only a few months left for the wedding, Star claims that the Queen Elizabeth II has handed over Prince Harry's soon-to-be wife with a "bizarre list of do's and don'ts". And if the actress is unable to comply with the "mile-long list of royal rules," she can "kiss her May 19 wedding to Harry goodbye," the outlet writes.
"Though Meghan understands she must have a different public persona now, she was shocked at some of the restrictions. They just seem too antiquated and ridiculous," a palace insider claimed. "She's told friends she finds the rules hilarious, but right now no one in the royal family is laughing," the source added.
Speaking of the rules, the magazine writes that she is not allowed to "cough in public," "no above-the-knee skirts," Meghan is allowed only "one hug per day," while adding a few obvious rules like "do wave and smile at crowds" and "always look happy."
The outlet goes on to shockingly claim that the Queen is "appalled by Meghan's see-through engagement photo outfit." Apparently, the Queen told the former actress, "You need royal class" claimed a friend of Markle. The situation escalated so much that Kate Middleton had to step in and stop Markle from "rebelling."
Although the royals have set up royal etiquettes lessons for the soon-to-be Brit member, Gossip Cop clarifies that the Queen has not "ordered" her to go to a "royal boot camp" nor has she handed her "list of royal rules."
The outlet also points out that the actress has not been "rebelling" and she knew that once she accepts Harry's proposal, she wouldn't have a free reign.