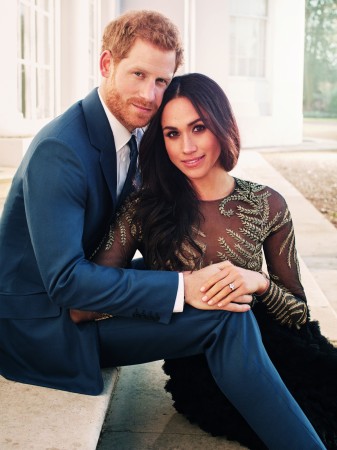 Days after Prince William and Kate Middleton's Christmas card was shared online, Kensington Palace has released Prince Harry and Meghan Markle's official engagement photos.
Though the couple flaunted the engagement ring when they confirmed their relationship status, the soon-to-be-married royal couple's official pictures were shot and shared this week. And boy, they were nothing like the royal fans have ever seen before.
Also Read: Queen 'hurts' Meghan Markle, causes distress between Prince Harry and Suits actress?
The photo was intimate, glamorous and oozed love giving royal fans some solid couple goals. As soon as the heart-warming photograph was shared online, royal fans couldn't stop raving about how great the royal and his lady loved looked together.
As soon as the picture was shared, Twitter couldn't stop but remember Harry's mother Princess Diana.
"They make a beautiful couple! Harry looks very handsome!" a user said before adding, "I love her dress! Diana would've adored Meghan." "Oh Princess Diana would have adored her no doubt," added another.
"His mother god rest that woman's soul. She would be so proud of these two boys of hers," said a Twitter user. "Wow, gorgeous couple, their love radiates. I can see Princess Diana smiling, jumping up & down with joy among the stars :)" shared another.
However, many users began to slam Meghan for wearing a risqué sheer outfit for an engagement dress. The actress chose to sport don a gorgeous £56,000 engagement gown designed by Ralph & Russo. The British brand's designed gown, which was "privately purchased," belonged to the autumn/winter '16 collection, Daily Mail reports.
As a way to say thank you, they have decided to share this candid photograph from the day of their portrait sittings directly with all of you. pic.twitter.com/MROyiKWEnG

— Kensington Palace (@KensingtonRoyal) December 21, 2017
The long black tulle gown features silk tulle ruffles on the skirt. The sheer torso was decorated with intricate gold feather thread-work that covered the soon-to-be royal's modesty.
This was not an acceptable choice for a few royal fans who took to Twitter to express their concern.
Is Meghan Markle wearing sheer dress with no underwear on the official engagement photo? ? #wtf

— Kate M Cambridge (@KateMCambridge) December 21, 2017
Nice ring, but shirt seems a bit risqué for an up and coming princess.

— MiaMarie (@WahcaMia) December 21, 2017
I'd wear it but not appropriate for a princess in my opinion, but you're welcome to yours.

— MiaMarie (@WahcaMia) December 21, 2017
sheer black gown on the official engagement photo... I think Prince Harry is turning into second Diana (

— Kate M Cambridge (@KateMCambridge) December 21, 2017
Is she actually wearing a see through top in a royal photograph? What on earth is going on at the palace that this is being allowed!?? Has the Queen lost her mind?? Is Harry blackmailing everyone?

— Royal Shit (@freshroyalpoop) December 21, 2017
Complimenting the stunning diva, Harry rocked a blue tuxedo with a matching blue tie. The photographs were taken earlier this week at the Frogmore House in Windsor.