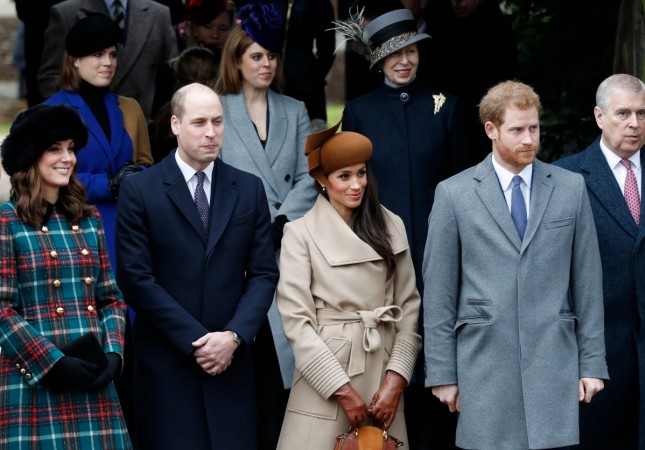 Following the announcement of her engagement with Prince Harry, Meghan Markle stepped out with the royal family – Prince Philips, Queen Elizabeth II, Prince Charles, Camilla, Prince William, Kate Middleton and Prince Harry – to celebrate her first Christmas with the royals at Sandringham.
Adapting the royal style, the Suits actress donned a beige coloured £1,000 wrap coat while she held to Harry's arm when she stepped out with the family. It was evident that Markle is trying her best to sync with the royals when she wore Sentaler coat and a brown hat, matching brown gloves and boots. However, her style statement did not woo royal fans the way Kate Middleton did.
Also Read: Pregnant Kate Middleton 'supporting' Meghan Markle while actress learns royal etiquette?
Though the coat was an amazing choice for the holiday, several noticed that it did not fit the future royal well. Fans appreciated her style, commending that she chose the right colour and type of coat, but were not impressed by the fact that it did not bring out the best of the 36-year-old.
Merry Christmas! The Duke and Duchess of Cambridge, Prince Harry and Ms. Meghan Markle have joined members of the Royal Family for the Morning Service on Christmas Day in Sandringham. pic.twitter.com/6DMRGFPntt

— Kensington Palace (@KensingtonRoyal) December 25, 2017
"I love the whole outfit. It's a shame it didn't fit well and it is so obvious when surrounded by people dressed in very well fitting clothes," a Twitter user said. "Nice indeed but it's obvious she hasn't had time yet to get her clothes altered to fit properly," defended another.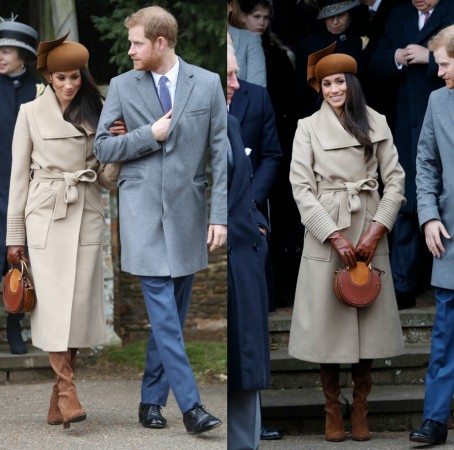 It was not only the coat that drew flak, online users also pointed out the choice of her accessories. "Sorry but what's going on with Meghan's hat? You guys need to get her a stylist pronto, she's not getting this right at all..." shared a user.
A disappointed royal fan expressed, "None of her clothes ever seem to fit well - she was wearing boots that were sliding down her ankles on her first engagement also. Feel kind of sorry for her that no one's advising her how to dress.."
On the other hand, pregnant Kate Middleton chose to wear a green and red checked £2665 Miu Miu coat that oozed Christmas spirit. She completed the look sporting dark tights, black gloves and high heels.
Kate opted to sport a pair of £2,900 earrings and top the look with a black winter cap that sat perfectly over her tresses. "Love what Catherine is wearing. Really suits her," a fan said.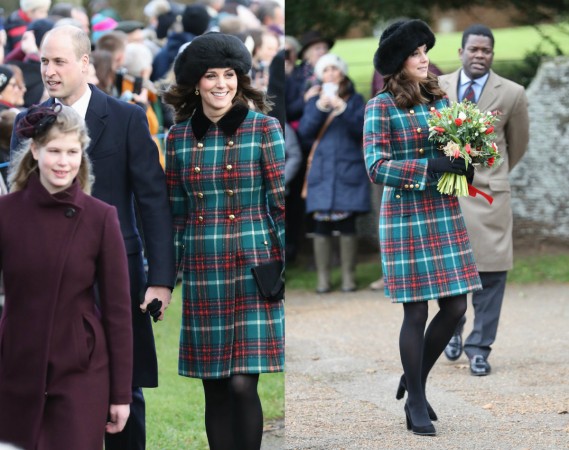 However, the highlight of the occasion was Prince William and Kate holding hands in public. The couple, who is not known to getting involved in a lot of PDA, won hearts.
"Never mind Megan, how lovely to see William and Kate holding hands," tweeted a fan. "The Duke and Duchess are holding hands in public, yesssssssss," added another.