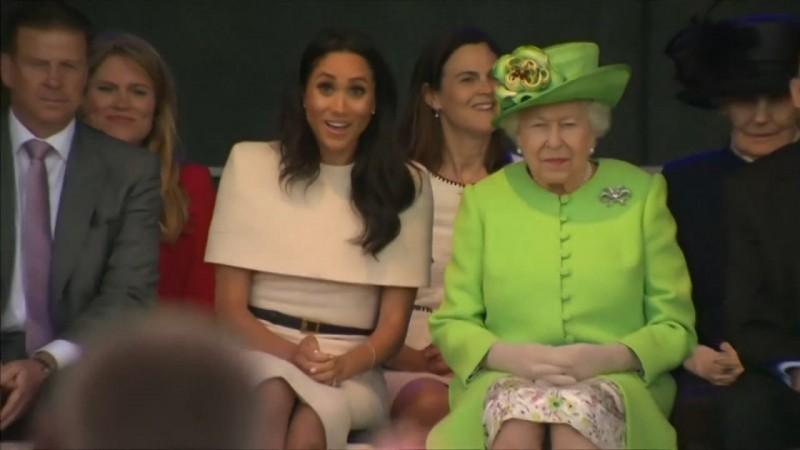 With the entry in the royal family have come many other responsibilities for Meghan Markle both as a new bride of the family and as the Duchess of Sussex. It has been more than a month since the former actress tied the knot with Prince Harry and since the day, she has remained in the spotlight whether it is because of her style or her public appearances or her nervousness.
Well, you can impose restrictions on anything and everything possible but limiting your taste is difficult and that too for a foodie like Meghan. According to latest reports, Queen Elizabeth has imposed restrictions on the eating habits of the new bride. She has been asked not to eat garlic in public. In addition, Meghan will not be able to enjoy shellfish as the royal family members are not allowed to consume them. Plus, onion too is NO for the members.
"We can never serve anything with garlic or too much onions," Buckingham Palace's royal chef Darren McGrady told the Sunday Express. "The Queen would never have garlic on the menu."
The dietary restrictions, however, have not been put considering weight or appearance factors but because the royal members believe in staying healthy and avoiding risks of food poisoning that may occur because of unhealthy eating. The members of the royal family avoid taking in rare meats and tap water from overseas for staying healthy. Onions and garlic are avoided as the royal family members have to keep on meeting new people for various purposes and hence bad breath-driving ingredients are avoided.
Since Meghan and the prince got engaged, the former actress had to make adjustments in so many aspects, which she accepted wholeheartedly. In fact, she has been seen following all traditions of the family way before her official entry. In fact, the Duchess of Sussex has transformed herself and her dressing sense completely to make sure she fits in well and carry the family's name well in the society.
With Meghan trying her best to adjust, the royal family also seems to like her efforts, which can be seen from the former actress' presence in all the important events of the family from time to time that begun immediately after her marriage.