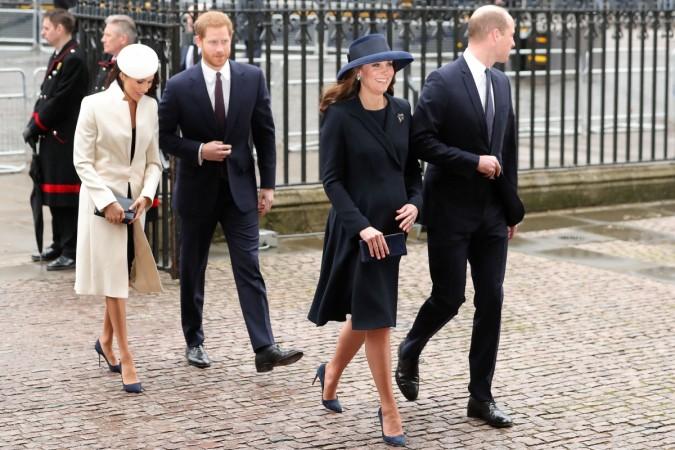 Prince William and Kate Middleton have already announced the christening ceremony of their 8-week-old Prince Louis. The event will be held at The Chapel Royal, St James's Palace, London on July 9. Now, all eyes are on Louis' aunt and uncle—Meghan and Harry. Will they step in as his godparents at the ceremony?
Well, the probabilities say a big 'NO.' Harry and Meghan are unlikely to be their godparents at the event as William and Kate prefer to honour their close friends and aides for the position. Interestingly, Harry didn't step in as the godfather for both George and Charlotte. The royal family feels that the honour should be given to others rather than a family member, who is already a proud uncle.
BREAKING NEWS: His Royal Highness Prince Louis of Cambridge, 3rd child of Their Royal Highnesses Duke and Duchess of Cambridge will on Monday, July 9th be christened at The Chapel Royal, St James's Palace. pic.twitter.com/5ydCP69E8E

— MalamMB's Daily (@MalamMBs_Daily) June 20, 2018
Though the names will be announced soon, betting sites have already made their odds. According to Ladbrokes, William and Harry's former assistant and nanny Tiggy Pettifer and William's outgoing private secretary Miguel Head are likely to be the close choice. "As with George and Charlotte, the Duke and Duchess chose close and trusted friends and aides, rather than immediate family members, and the odds suggest that will be the same with little Prince Louis," Jessica Bridge of Ladbrokes was quoted by Express UK. They are William's most trusted aides and is listed at 2/1 and 5/4 respectively.
#princelouis's christening will be on Monday 9th July at The Chapel Royal, St James's Palace, London, say KP.
Prince Louis will be christened by The Archbishop of Canterbury, the Most Reverend Justin Welby. pic.twitter.com/HByQNiW035

— Emily Andrews (@byEmilyAndrews) June 20, 2018
Other names that have made to the list are William's stepsister, Laura Lopes(daughter of Camilla, Duchess of Cornwall), Kate's former private secretary Rebecca Priestley, William and Kate's close friends David Jardine-Paterson (husband of Emilia, who is also godmother to Prince George), Hugh van Cutsem, and William van Cutsem (godfather to George). Late Princess Diana's sisters, Lady Jane Fellowes and Lady Sarah McCorquodale, former Welsh guard Captain Mark Dyer, Sarah Ferguson and Prince Andrew's daughters, Princess Beatrice and Princess Eugenie.
Unfortunately, Louis' aunt Meghan is way behind William's close aides—with only 14/1 chance, while Harry is listed at 10/1.
Interestingly, Prince George's ceremony also took place at the same church while Charlotte was christened at Sandringham's St. Mary Magdalene church in Norfolk—where her late grandmother Princess Diana was christened. An official statement from the Kensington Palace stated that Louis' ceremony will be presided by the Archbishop of Canterbury, the Most Reverend Justin Welby, who also officiated Prince George in October 2013 and Princess Charlotte in July 2015.
Who will be Prince Louis' godparents? Comment your guesses?