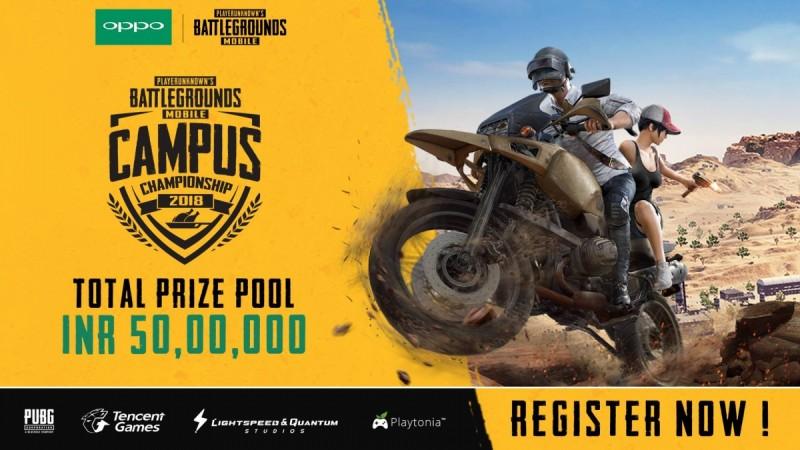 PUBG Mobile is the latest sensation and it has attracted players from different age groups. The battle royale by Tencent Games is exceptionally popular among teens and there's another reason to master the 100 players online multiplayer game.
All this while PUBG Mobile players had to either spend real cash to buy some stickers for weapons, cars and attire, but there's a new tournament for all Indian college students that guarantees monetary reward for winning titles. Tencent Games is hosting the PUBG Mobile Campus Championship 2018 in India, which is sponsored by Oppo offering a total prize pool of Rs 50 lakh.
The "India's biggest eSports tournament" is open for students from over a 1,000 colleges in more than 30 cities. Registrations are open on PUBG Mobile's official website until September 23 and the tournament will commence on September 26 and run through October 21, 2018. The final will take place in Bengaluru.
Participants must enroll as squads (team of four players) from any campus in India in order to compete. There will be four knockout rounds, including the semi-finals, and 20 teams will be shortlisted for the finals to compete in the finale. Make sure you have the best players on your team to win the grand prize.

Best players during the tournament will not go unnoticed. There are several special awards for the matches played at the grand finale. They include:
MVP – Overall Best Player with maximum number of MVP awards
The Executioner – Awarded for maximum kills overall
The Medic – Awarded for highest number of revives
The Redeemer – Awarded to the player with highest amount of health restored
The Rampage Freak – Awarded for maximum kills in one lobby
The Lone ranger – Awarded for Maximum Time Survived in game
For those who cannot participate or get eliminated in the early rounds can join the action by streaming the entire tournament from social media platforms. Seeing the best players in one of the most popular online mobile games today put their best foot forward will definitely give tips on how to be better in PUBG Mobile.
In the meantime, check out the promo video for PUBG Mobile Campus Championship 2018 below.