Quantico actress Priyanka Chopra slayed the Metropolitan Museum of Art charity gala Monday in a crimson Ralph Lauren velvet gown. The gorgeous outfit has golden embroidery and intricate beadwork.
While Chopra's outfit grabbed many eyeballs, people are still unaware of the fact that the beautiful Ralph Lauren outfit has a major Indian connection.
In an interaction with PEOPLE during the event, Chopra talked about the creation and revealed that the golden embroidery was done in India.
"I think this is such a departure from what we did last year," she told PEOPLE. "I love the idea of this hood, such a nod to the theme, but at the same time, the embroidery's all made in India, so I love my two worlds colliding."
She also described that how she loved the color of the dress. You can see the video here.
Taking to Instagram, Ralph Lauren has revealed the details of the dress —how much effort was put into the making of the gown.
They wrote: "This Ralph Lauren creation is completely crafted by hand, with Swarovski crystals, meticulous beadwork, and over 250 hours of embroidery."
This year Met Gala's theme was "Heavenly Bodies: Fashion and the Catholic Imagination".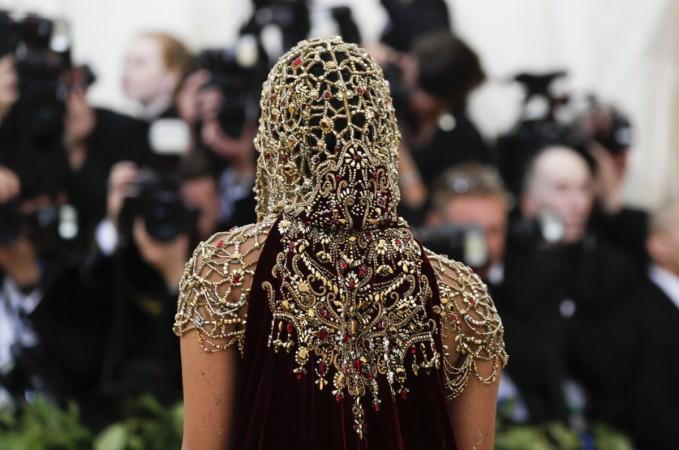 Priyanka Chopra has also been in the news for getting an invite to the royal wedding.
The actress is being flooded with questions about the wedding wherever she goes. Her close friend Meghan Markle is set to tie the knot with Prince Harry May 19.
While Chopra recently confirmed that she will be attending the royal wedding and she is not a bridesmaid in the wedding, the 35-year-old actress was also asked several times about the details of the outfit that she will wear at the royal wedding.
During her recent appearance on Watch What Happens Live with Andy Cohen, the actress said, "I haven't even been fitted yet. I have an idea [what it's going to be]," she revealed to Cohen during the After Show. "I'm more stressed out about a small hat. How do those things stay [on]?"