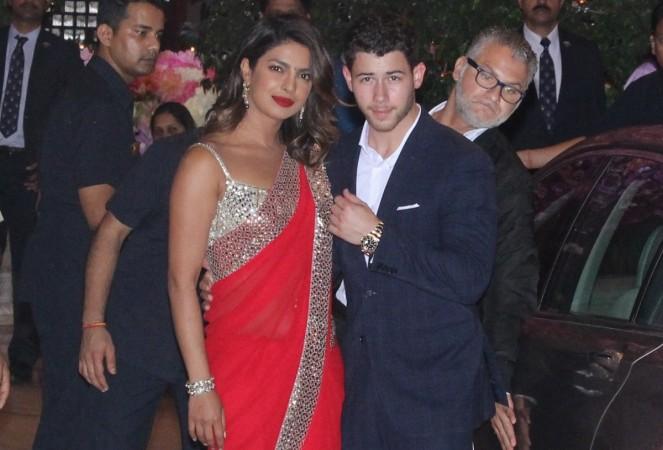 Priyanka Chopra, who has been tight-lipped about dating Nick Jonas, has finally broken her silence over their rumoured relationship.
The Quantico actress talked about her recent week-long trip to India with Nick. "We're getting to know each other and I think it was a great experience for him," told People on the sidelines of a recent Vogue event in the Hamptons.
"That's what he said. I think he really enjoyed it," she added.
During her trip, Priyanka introduced Nick to her mother Madhu and other Bollywood celebrities. The couple then took off to Goa for a much-needed vacation and had a ball together. They also attended Akash Ambani and Shloka Mehta's pre-engagement bash and were seen making a joint appearance walking hand-in-hand at the ceremony.
"It was really beautiful. He had a great time," Priyanka said.
The duo then flew off to Brazil where Priyanka was seen cheering for Nick when he performed at Villamix.
While Priyanka had been spotted travelling with Nick very often in the past few days, she said that it may be a relationship milestone for some people travelling with their partner but for her its just a part of her business routine as usual.
"To me, my whole life is about travelling. I travel every two weeks on a different plane. My family flies over, my friends fly with me. It's not a big deal in my world. It's my normal," she said.
Priyanka, 35, and Nick, 25, have been hitting a lot of getaways to spend quality time with each other, they have also been spotted on date nights on several occasions.
When Priyanka was asked about her ideal date night, she said it's important for two people to be themselves and should be able to get to know each other and not indulging in some activity together.
"I wouldn't want a date night in an activity. That's not a date. That's a thing you do together, but date night is important to have two people be themselves and be able to spend time together and still love each other," Priyanka said.
She further added, "Date night for me would be someone being thoughtful about the person they care about and being with them."
Apart from their private outings, the lovebirds are also seen indulging in social media PDA. Nick kind of made their relationship official when he recently posted a video of Priyanka enjoying the Mumbai rain which he captioned with a lovestruck emoji. Priyanka too shared a picture of Nick and her brother Siddharth and wrote, "Favourite Men." They recently were also spotted wearing matching gold rings which sparked speculations about their secret engagement.
Going by the breadcrumbs, it looks like things are getting quite serious between Priyanka and Nick.