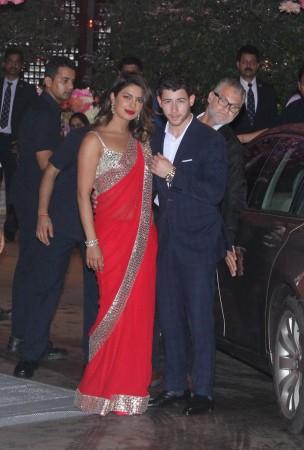 Priyanka Chopra and Nick Jonas are undeniably madly in love. They have spent most of their summer globetrotting together. The couple was first spotted together in New Jersey attending a Jonas family wedding, following which they spent some quality at Chopra's house in India. The couple spent time bonding with the actress's family in Mumbai and Goa and then they flew to Brazil for a concert.
Amidst all their trips, rumours began making the rounds that Priyanka and Nick could soon get engaged. However, a new source believes that it wouldn't be the case. The couple could likely wait until next year to take the next step in their relationship.
"Nick is super into Priyanka. But he isn't the type to rush into an engagement. It wouldn't be surprising if they eventually get engaged, but he's not the type to propose right away," a source told Us Weekly.
Another source told the publication that the 25-year-old singer is "not rushing to get engaged," but he is "obsessed" with the Quantico star. "They are obviously serious enough to the point that they are meeting each other's families, which is clearly a huge deal," the source explained. "[However] no one would be surprised if Nick proposed to her in the next year," the insider added.
"Priyanka knows she's in control and has Nick wrapped around her fingers, but she adores him equally. She just wants to take things slow for the moment as they both have extremely busy schedules."
Nevertheless, the couple has put on matching gold rings hinting that they are serious about each other. The couple has been spotted several times wearing identical gold bands. Page Six notes that the rings were evident when PeeCee joined the Jonas Brothers celebrating 4th of July.
An Indian publication had reported that there was a possibility Priyanka and Nick could get engaged by the end of July or first week of August. However, neither of the stars addressed the speculations.