Love birds Priyanka Chopra and Nick Jonas are in Brazil. The couple, who kept the Indian paparazzi busy over the week with their trip to the country, flew out of Mumbai a couple of days ago. The duo is in Brazil to attend the Villamix, where Nick is performing. And it looks like Priyanka just confirmed her relationship with the singer.
Although Priyanka was spotted attending Akash Ambani and Shloka Mehta's engagement ceremonies with her 25-year-old beau, the actress has neither confirmed nor denied her relationship with the singer. However, she has been dropping hints about it on social media platform.
In her new Instagram video, Priyanka followed Nick's footsteps and may have just confirmed their relationship. Like Nick's "Her" video, Priyanka posted a video of Nick setting the Villamix stage on fire and captioned it, "Him" along with heart-eyed emoji.
The new video comes amidst speculations that the 35-year-old actress could get engaged by the end of this month or early next month. However, does the video hint that Nick may have impressed Priyanka's mother, Madhu Chopra?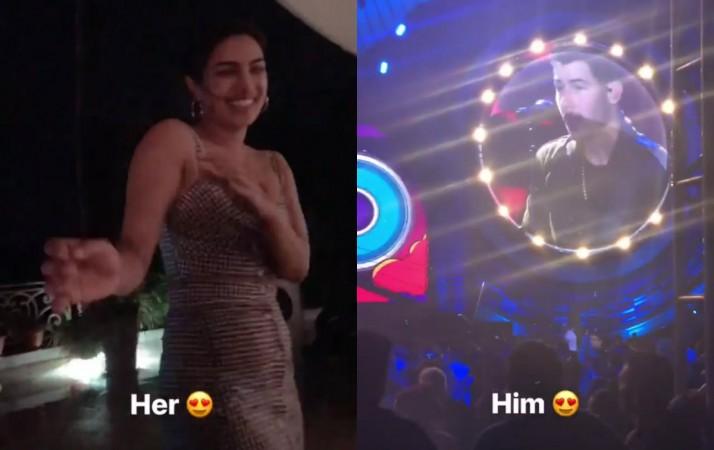 In a panel for Forbes recently, Priyanka revealed that her mother has a few criteria based on which she will decide if he's the right man.
Because I'm in my 30s, which is obviously over the hill, my mother said to me, "You'll get married the day you find someone who appreciates how hard you worked to get where you are,"' the actress revealed.
Is Nick the man? The last we heard about Nick and Madhu was when the latter told DNA she hasn't been able to spend time with the singer to properly know him. "We just went out for dinner where Nick was present. But it was a large group. There were 10-odd people, so I didn't get the time to know him that well. I've met him for the first time, so it's too early to form an opinion," she told the publication.
Following the statement, the actress's mother and Nick were spotted on dinner dates together and attending the big fat Indian engagement of the Ambanis. Maybe he has impressed her, after all! We'll have to wait for Madhu's statement to know her opinion on Nick and his relationship with Priyanka.