Malayalam actress Priya Prakash Varrier became an overnight sensation when a tiny clip from the song Manikya Malaraya Poovi from her upcoming movie Oru Adaar Love released. Her enchanting eyebrow moves and cute, flirtatious exchange with her co-star Roshan Abdul and her naughwink made instantly made her India's new crush.
Now known as the 'winking' girl, Priya has become one of the most searched celebrities on Google. In fact, she has beaten popular Bollywood actress Deepika Padukone and famous TV actress Mouni Roy in the race.
However, she is still behind Sunny Leone, who still remains to be the most searched celebrity, on the search engine.
Here's how we know about it:
When International Business Times India checked the Google trends on February 14 and compared it with Deepika, Mouni and Sunny, who are the most popular searches in the entertainment world, it gave us the results as mentioned above. You can get a clear idea about the trends from this picture here: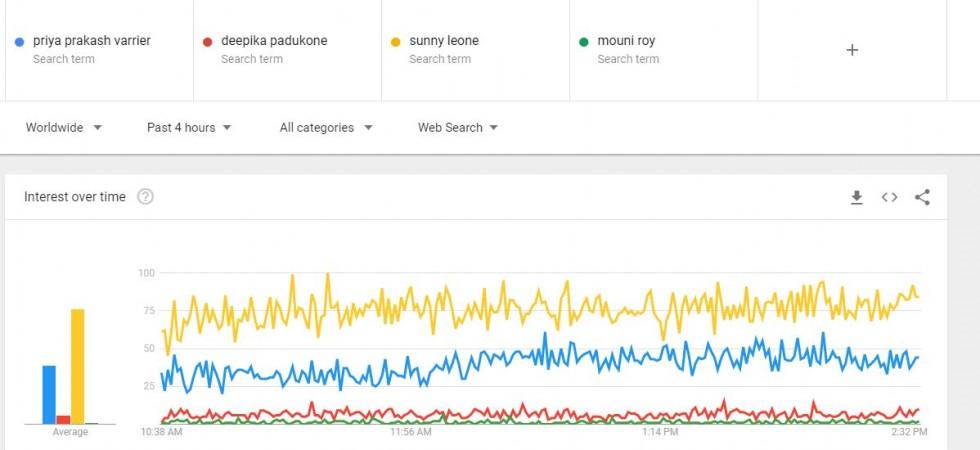 But Priya had beaten Sunny, when her 'wink' went viral. On February 12, Priya's search was higher than Sunny. Here's the proof:

Thousands of memes and trolls were one of the reasons why Priya gained the popularity. In the span of a few hours, the 18-year-old became an internet sensation after the clip went viral and broke some Instagram records along the way.
She also broke the internet with memes featuring alongside Shah Rukh Khan, Katrina Kaif, Narendra Modi, Arvind Kejriwal, Rahul Gandhi and many more tickling our funny bone.
The song, released over the weekend, has already garnered more than 14 million views on YouTube. The teaser released last night also crossed the 3 million mark at the time of reporting.
Meanwhile, Priya and the song are not only making headlines for wooing Indians, but also for legal trouble. A group of people have reportedly filed a complaint against the internet sensation and the song Manikya... claiming that it hurts Muslims' sentiments, News 18 reported.
Report further stated that the complaint has been made because the song, when translated into English, allegedly insults the Prophet and they want action to be taken against the video.
Recently, International Business Times, India, talked to the movie's director Omar Lulu. He said how Priya's good acting skills gave her more scenes in the movie. He said: "It is true that we are altering the script slightly to give a better option for the new actors to perform. Priya was actually selected for a very small role but she did it way better than my expectation. So I gave her more scenes to perform and the result was massive."