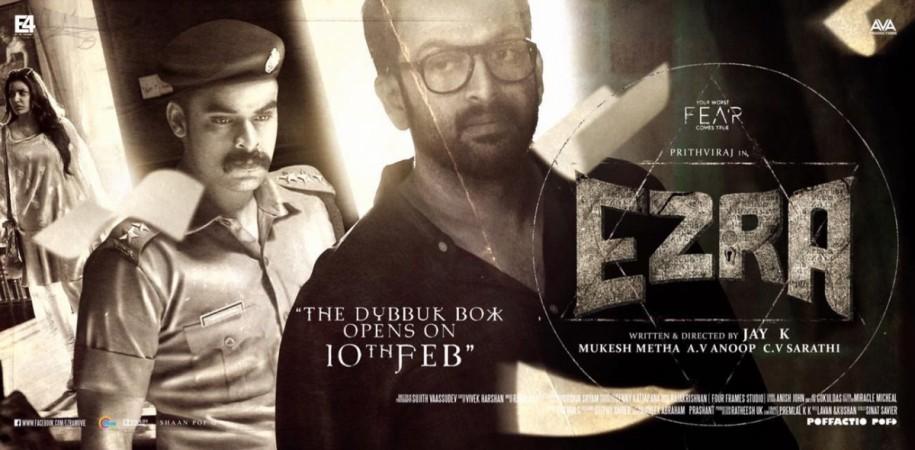 Not many may welcome movies that are made in the horror genre, and yet, young star Prithviraj Sukumaran's upcoming Malayalam film, Ezra has been tagged as one of the much awaited projects of the year. The Jay K directorial, in which Prithviraj plays as Ranjan, is expected to rock the box office in Kerala on Friday, February 10.
Check Mollywood February releases
Advance booking response
The tickets for the 10 am and 7:20 pm shows of Ezra have already been sold out at Cinepolis Centre Square Mall in Kochi, and majority of the shows listed on BookMyShow in various centres are seen as either "almost full" or "filling fast." The massive response of audience prior to the release of Ezra proves how keen they are to watch the horror thriller.
But what are the factors that make Ezra a special movie?
Prithviraj Sukumaran
First and foremost, Prithviraj is the major highlight of Ezra, in which he is expected to deliver a remarkable performance, looking at the teasers and trailer of the horror thriller, which have already raised the expectations of the audience from it. With the success of his recent releases, the audience believe there could be some good factors in Ezra that made him commit to the project, and they hope it would be a big hit despite being a horror thriller.
Horror genre
Even though many are not fans of horror movies, Ezra seems to be a decent one compared to other spooky movies released in Malayalam. Prithviraj claims that though the movie has few scenes that are sure to shock and make cine-goers scream, it has a good story line that will engage them for sure. "I have acted in horror movies before, but they were all comedy horror movies, but Ezra is different. Let this be a reawakening genre in movie in Malayalam [translated from Malayalam]," Prithviraj is heard saying in a live interview. The makers have also guaranteed on the quality and freshness in Ezra that will surely impress the audience.
Ensemble cast
Ezra has an ensemble cast, including Tovino Thomas, Vijayaraghavan, Babu Antony, Sudev Nair, Pratap Pothan and Alencier Ley in significant roles. The movie also marks the Mollywood debut of Tamil-Hindi actress Priya Anand, who plays as Priya in Ezra. After the release of the movie's teaser, rumours were doing the rounds on social media that superstar Mohanlal might be making a cameo appearance in it as Abraham Ezra. However, the film-maker recently confirmed it to be a rumour and clarified that the secret character seen in the videos are Prithviraj himself.