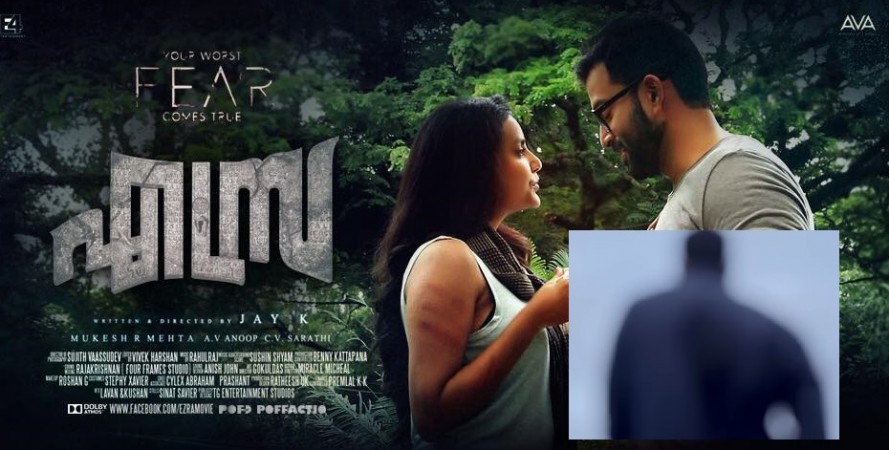 Ever since the teaser and trailer of Malayalam horror thriller Ezra hit cyber space, rumours are rife that superstar Mohanlal plays the secret character of Abraham Ezra in it. The videos show a man standing next to a water body, holding a paper that reads "The spirit of Abraham Ezra dislocated from his body 1941 AD."
Is Mohanlal the secret character in Prithviraj Sukumaran's Ezra?
Incidentally, the person featured in the videos resembles the silhouette of Mohanlal. Now, putting the rumours to rest, the movie's director Jay K has opened up on the news. The filmmaker clarifies that Mohanlal is not a part of the horror thriller, and claims that the person, alleged to be the superstar in the video, is Prithviraj itself.
"The rumours about Mohanlal's presence in Ezra started doing the rounds on social media after the release of its teaser and many claimed that he plays the character Abraham Ezra in it. I am not sure who initially noticed and wrote about it, but I got many calls from friends and well-wishers, who wanted to clarify the news. I felt being in a wonder land, and wished Mohanlal was also a part of the movie [translated from Malayalam]," Mathrubhumi quoted Jay K as saying.
"A few claimed that Mohanlal's name was also listed in cast list on the movie's Wikipedia page, but I am not sure how it happened," the Ezra director added.
The makers have claimed that Ezra willl be a never-seen-before horror thriller, unlike the horror movies the Mollywood audience are familiar with. The innovative graphics and art work of the film are expected to engage the audience giving a whole new experience and meeting the standards of Hollywood thrillers.
In the movie, set in the backdrop of Jewish storyline, Prithviraj's character Ranjan Mathew is a chief executive officer of a shipping company who arrives in Kochi from Mumbai along with his family. A few unexpected events they come across are being narrated in the horror thriller, which also stars Priya Anand, Tovino Thomas, Babu Antony, Vijayaraghavan, Pratap Pothan and Sudev Nair in main roles.