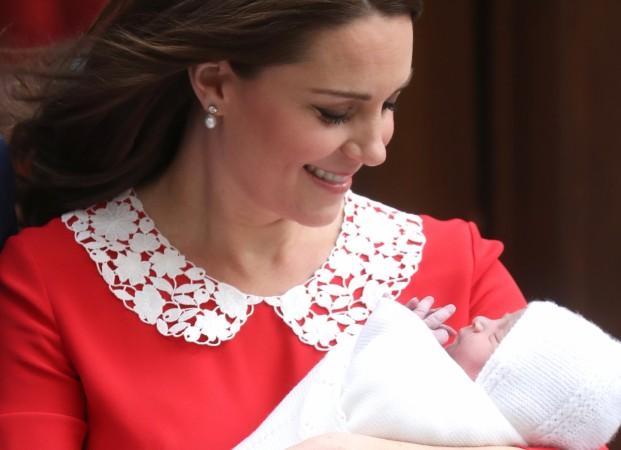 Say hello to Prince William and Kate Middleton's third baby, Prince Louis. About 13 days after he was born, the Kensington Palace released the first photo of the new royal member. The Palace tweeted the picture adding that the adorable picture was taken by Duchess of Cambridge and soon enough, it was one of the most talked about picture online.
The viral photo featured the newborn wearing a hand-me-down outfit from Prince George. If that moment wasn't awe-worthy enough, the Palace also shared another picture of the baby boy with his elder sister, Princess Charlotte.
The three-year-old is seen cradling her younger brother. The photo shared a remarkable resemblance to the picture of when George held Charlotte when she was born. Following George's footsteps, Charlotte is seen kissing her sibling in the picture.
While sharing Louis' first pictures, the Palace revealed that the two photos were taken by Kate at Kensington Palace. The picture featuring Louis and Charlotte was taken on May 2, Princess Charlotte's third birthday. Louis' individual photo was taken on April 26.
"The Duke and Duchess would like to thank members of the public for their kind messages following the birth of Prince Louis, and for Princess Charlotte's third birthday," the Palace said while sharing the pictures. George was nowhere in the picture, presumably at school when the photos were taken.
The photos were received with some heartwarming reactions from the internet:
The Duke and Duchess of Cambridge are very pleased to share two photographs of Princess Charlotte and Prince Louis, taken by The Duchess at Kensington Palace.

This image was taken on 2nd May, on Princess Charlotte's third Birthday. pic.twitter.com/H5VVgIwRGp

— Kensington Palace (@KensingtonRoyal) May 5, 2018
This image of Prince Louis was taken by The Duchess of Cambridge at Kensington Palace on 26th April.

The Duke and Duchess would like to thank members of the public for their kind messages following the birth of Prince Louis, and for Princess Charlotte's third birthday. pic.twitter.com/bjxhZhvbXN

— Kensington Palace (@KensingtonRoyal) May 5, 2018
It's amazing how alike they all are!?
Prince William & Harry, Prince George & Charlotte, Princess Charlotte & Louis pic.twitter.com/yJtPjr3E8H

— Phoebe R (@Pheeruston) May 5, 2018
What an absolutely beautiful portrait. Blessings to HRH Princess Charlotte and HRH Prince Louis.

— lionessmom76 (@lionessmom76) May 5, 2018
They're so adorable, Kate captured a very precious moment. ?

— #ThemajorityResist (@DeelightRI) May 6, 2018
May 5, 2018