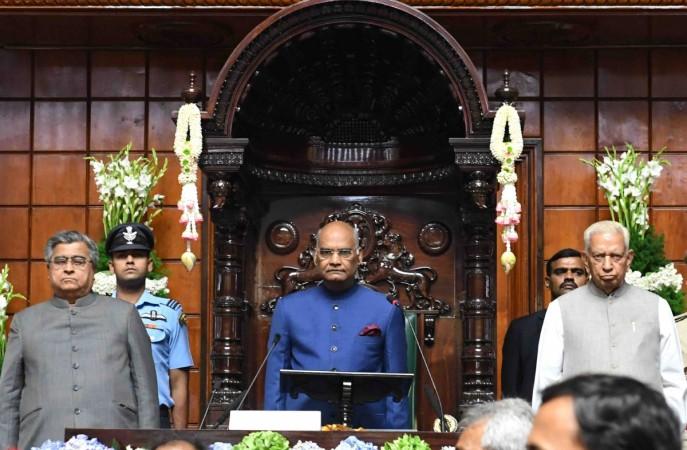 Underling Cyprus' contribution to India's economic growth, President Ram Nath Kovind today invited the businesses in the Mediterranean nation to invest in the country in the areas of digitalization, Smart Cities, infrastructure, and tourism.
Cyprus is the eighth largest investor in India and bilateral trade stands at around $8.2 billion. During his address to the House of Representatives of Cyprus, the President said India is at an exciting juncture and offers appealing business opportunities.
He said massive outlays and attractive and viable projects are evident in the Digital India mission, Smart Cities mission and in key infrastructure sectors such as power and energy, highways, and ports and shipping.
India is also promoting tourism in a big manner, including by way of simplifying visa provisions and augmenting infrastructure and facilities, Kovind said. "In all these areas, we look to Cyprus for partnership. You can come as investors and you can come as stakeholders, you can come to buy or to sell, you can come with your expertise and you can come with your brands and your skills," he said. "India is open for business - and India is open for Cyprus," Kovind added.
The President said India's overriding mission is its economic growth and modernisation and "Cyprus, as a trusted partner and as one of the largest investors in India, is critical to this process". Hailing Cyprus as a responsible country, Kovind also thanked the island nation for its unstinted backing of India's candidature for expanded UN Security Council and the Nuclear Suppliers Group (NSG).
India along with Brazil, Germany, and Japan -- which constitutes the G-4 grouping -- has been seeking expansion of the permanent seats of the UNSC to make the powerful UN body more representative and reflective of the changing global order. India is also mounting a strong bid for admission to the NSG, an elite club of 48 countries that deal with fissile materials and nuclear technology.
"As responsible nation-states, both Cyprus and India are alive to the challenges in the international system...The salience of national sovereignty and the essential need to defeat radicalism and terrorism unites us," the President said during his address to the House of Representatives of Cyprus. He further said India is counting on Cyprus' support for finalising the Comprehensive Convention on International Terrorism at the United Nations.
"I would also like to thank Cyprus for its unstinted backing of India's candidature for an expanded UN Security Council as well as for the Nuclear Suppliers' Group," Kovind said. Noting that both the countries share issues of common concern and are committed to peace, security and sovereignty, he said, "Inevitably we find ourselves on the same side. In fact, there are hardly any major issues on which Cyprus and India disagree."
Shortly before his address to the Cypriot parliament, the President paid floral tributes to Mahatma Gandhi's bust and Archbishop Makarios's statute at its premise. Archbishop Makarios is Cyprus' first president.
Earlier in the day, Kovind and his Cypriot counterpart Nicos Anastasiades signed two agreements on combating money laundering and cooperation in the field of environment. The President is in Cyprus on the first leg of his eight-day three-nation visit to Europe to continue India's high-level engagements with European countries.