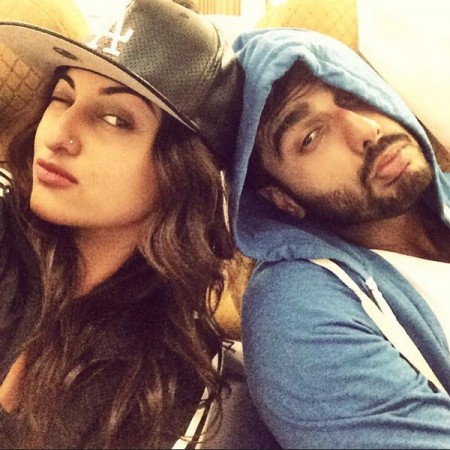 Arjun Kapoor and Sonakshi Sinha's "Tevar", slated to release in theatres on 9 January, is poised for a good response at the box office, both in India and overseas markets.
It is likely to be the first hit film of 2015.
Directed by Amit Sharma, "Tevar" is a romantic action entertainer, which is a remake of Mahesh Babu's 2003 hit film "Okkadu". Set in Hyderabad, the movie revolves around the story of a kabbadi player, who rescues a girl from an unwanted marriage and hides her in his home. Amit is bringing the same story with some changes in the screenplay to suit the taste of Hindi audience.
"Tevar" features popular actors Arjun Kapoor and Sonakshi Sinha in the lead roles originally played by Mahesh Babu and Bhumika Chawla. The previous releases of Arjun and Sonakshi have proved to be hits at the box office and their acting skills and fan following were among the key reasons for their success. Their chemistry is going to be one of the main highlights of the film.
Sajid-Wajid and Imran Khan have composed the soundtracks. Having become chartbusters, the film's songs have received lot of public attention. The promos have also impressed viewers. Amazing cinematography and well-choreographed action scene will also be among the other attractions of the movie.
"Tevar" has been creating the right kind of buzz in the media ever since it was announced. In addition, the makers have shelled out a hefty sum for its publicity, adopting several new promotional strategies. Arjun Kapoor and Sonakshi Sinha have appeared on many popular TV shows and award events to promote the film.
The hype and expectations surrounding "Tevar" have helped the film register huge amount advance booking for its opening day. Bollywood trade experts feel that the movie will get superb opening and do good collections in the subsequent days also.
Trade analyst Taran Adarsh has already seen "Tevar" and predicted the film will surely be a hit at the box office. On 8 January, he tweeted: "Watched #Tevar last night. A wholesome entertainer with power-packed drama, high-octane action and heartfelt romance."
He added: "Arjun Kapoor, Sonakshi Sinha, Manoj Bajpayee and Raj Babbar are in top form. Amit Sharma is a director to watch out for. #Tevar wins you over completely. Has all the ingredients to strike a chord with moviegoers. 2015 should start with a bang!"