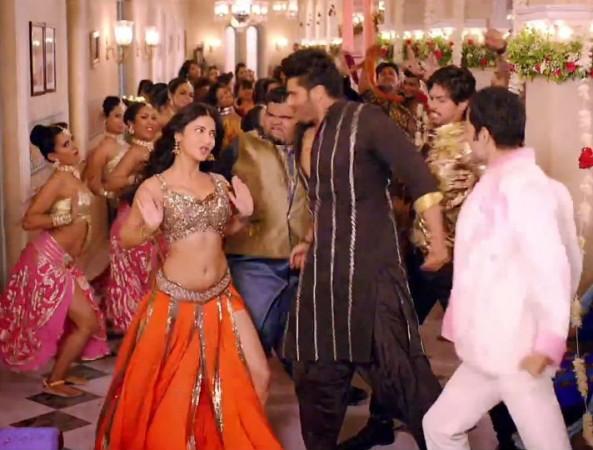 The music video for the item song 'Madamiyan' from Bollywood movie "Tevar" was released on YouTube on 18 December. The dance number features Shruti Haasan shaking a leg with Arjun Kapoor.
Sajid Wajid have composed the music for the song 'Madamiyan', which has Kausar Munir's lyrics and Mika Singh and Mamta Sharma's voices. Eros International, which is distributing the film "Tevar" has released the music video of the item number. The 2.35-minute video starts with the statement: "Every girl deserves a mad lover and there's no one better than our Agra ka Pintoo!"
'Madamiyan' has trendy beats, funky lyrics and superb dance movies. This happens to be the second item song of Shruti Haasan, who was earlier seen in the hit dance number 'Junction Lo' in Mahesh Babu's Telugu film "Aagadu". She looks super hot and sexy as she sizzles in red hot costumes alongside Arjun Kapoor in the song.
The film-goers are impressed with the music, voices and dance moves featured in 'Madamiyan'. They cannot stop going gaga over the song. The music video of the song is now going viral in the social media. Here are some viewers' comments on the track.
Anirudh Medisetty
@shrutihaasan SIZZZLES in #Madamiyan song from the movie #Tevar Her chemistry with @arjunk26 is sparkling and are gonna raise temperatures!♥
Shrutz_Omkar
OMG!! #Madamiyan Its really crazy song!! Damn @shrutihaasan and @arjunk26 you guys just amazing in dancing moves! @TevarMovie
Shreyans
Looks like #Tevar movie has decided to give hit pe hit songs and a superhit on 9th January 2015!! Freaking awesome #Madamiyan loved itt!! ♥
Ishita
Omg Arjun is the the cutest person everrrrr. I was shivering while watching this #Madamiyan
Diyu
@TevarMovie Dint like the song.Loved the song! Arjuns moves *_* Mika's voice *_* Everything about this song is just perfect!! #Madamiyan
Aarati Kulkarni ‏
@TevarMovie Killer song. I can't stop listening the song. Hooting for @arjunk26 & @shrutihaasan. Killed it #Madamiyan :)
Vishakha Thakur
This song is definately the biggest song of the year ! congo arjun :)
Kabeer Khan
Shruti steals the movie......damn hot