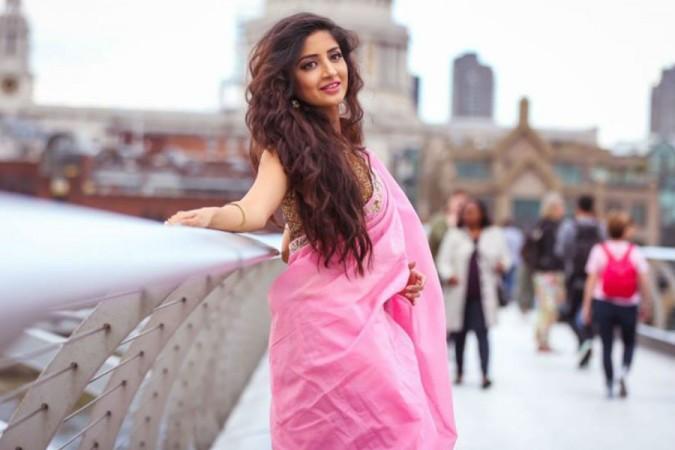 Actress Poonam Kaur's brother Shyam Singh has answered the controversial questions raised by film critic Mahesh Kathi and blasted him for unnecessarily dragging his sister into his fight with Pawan Kalyan.
In a series of tweets, Poonam Kaur indirectly mocked Mahesh Kathi on January 5. She body-shamed him and called him beggar and unemployed person who earns money through criticism. A visibly irked Mahesh challenged her and Pawan Kalyan to come for an open debate at the Somajiguda Press Club.
When Poonam Kaur and Pawan Kalyan did not turn up, Mahesh Kathi asked her six questions and demanded answers from her. After keeping mum on the issue, Poonam pleaded Pawan Kalyan on Twitter to help her, but she immediately deleted the tweets. Read: Poonam Kaur pleads with Pawan Kalyan to rescue her
Later in an interview with TV9 Telugu, Poonam Kaur's brother Shyam Singh answered all the questions posed by Mahesh Kathi. He also expressed his anger against the film critic for making baseless allegations to tarnish his sister's image. He demanded proof for his allegations.
Read: Does Poonam think that Pawan Kalyan above criticism?
Shyam Singh said, "There is no connection between Pawan Kalyan and Poonam Kaur. Mahesh Kathi has unnecessarily taken my sister's name in their fight. I don't know what his problem is. Basically, we don't have a problem with anyone and there is no need to open debate with him. If he has some proof, let him show it to us."
When asked about body shaming, Shyam Singh said, "It is social media and we are independent to tweet about anybody. Why is he thinking that we are tweeting about him? There is no point in his blame, as she has not named him her posts. (sic)"
Below are the answers Shyam Singh gave to Mahesh Kathi's 6 questions:
1. With whose help were you appointed as the Handlooms brand ambassador for AP?
Poonam is a fashion designer and a NIFT (National Institute of Fashion Technology) graduate from its Hyderabad campus. She completed her graduation in 2007. She has been working with the institute and handloom weavers, much before Andhra Pradesh or Telangana started addressing their issues.
Poonam has been visiting various villages and helping weavers for the past three years. She has groomed them and taken their work to the international level. Chandrababu Naidu was impressed with her work and made her handlooms' ambassador. Neither Pawan Kalyan nor anyone helped her, but it is her own merits and hard work that got her to this position. We don't need the support of any politician.
2. Why did you perform puja along with Pawan Kalyan under the same Gothram (clan)?
Tirupathi is a temple, which anyone can visit. I have personally gone there with Poonam, but we did not do any pooja. We Punjabis don't believe in it, but we respect God. Mahesh has problems with Pawan and he is dragging my sister into it. So there is no meaning for it. Pawan is a politician and he will go with his team. Why will we personally accompany him?
3. You attempted suicide with a feeling that Pawan Kalyan cheated on you. You were admitted to a hospital then. Who saved you? What is the hospital name? Who paid your hospital bills?
It is a baseless allegation and he will go to jail if I file a complaint. We are not from that background and we will not go to file a complaint about every issue. He has to come with proof before making allegations. He is unnecessarily dragging her name and we have the right to go to the court of law.
4. What promise did Pawan Kalyan make to your mother?
Pawan Kalyan is a public figure and every Tom Dick and Harry wants to meet him. We are also allowed to meet him over the issues related to the film industry and others. But he has not come to us personally and promised anything to us. I don't need anybody to help us come up. We have created our own market and we don't need any godfather. She is honest and innocent and that is the reason everyone wants to target her.
5. Why do you have anger towards director Trivikram Srinivas?
Be it Trivikram or any other director, the film industry goes through several ups and downs. Why will we get angry over others problems? He has not done anything wrong to her to be upset with him. The film offers come and go, but that doesn't matter.
6. When Trivikram and Pawan Kalyan are performing a Kshudra Puja, what were you doing there?
We are Punjabis and Sardars. We don't understand Kshudra pooja or any pooja. In my notice, she has not been part of anything such. If he has a proof, let him produce it before the public. He has some medical problems and he should get treatment for it.
When asked whether he has plans to take legal action against Mahesh Kathi, Shyam Singh said, "She is celebrity and she has her own work. We can't respond to the allegations of Every Tom, Dick and Harry. I request media not to entertain such people, who make allegations without proof."