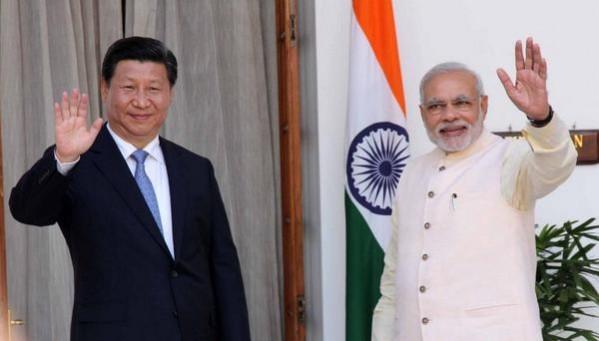 Indian Prime Minister Narendra Modi is in China for the second time in six weeks. While the earlier visit in May was to hold informal talks with the Chinese President, Xi Jinping, this time around, he will be attending the Shanghai Cooperation Organization (SCO) Summit over the weekend.
Modi met Jinping on Saturday, June 9, on the sidelines of the summit. This meeting assumes significance as the personal bonding between the leaders heralds a new direction to the Indo-China relations.
The SCO is essentially a grouping of eight countries that are part of the Eurasian landmass. The organisation is of strategic and geopolitical importance to major Western powers with China at its centre for its location abutting the East and the West.
The focus of this year's summit is regional connectivity and shared concerns over terrorism - both of which are sure to be in India's liking given the country's role in fighting cross border terrorism, not to mention the objections to China's efforts to encircle India by investing in projects such as the New Silk Road to which India does not subscribe.
Under the Modi government, India is increasingly being looked at to play a greater role in balancing China as well as emerge as a regional player in its own right.
During the meeting on Saturday with Jinping, the Modi stressed on the need to take forward the "spirit of Wuhan", a reference to the previous meeting between the two world leaders where issues of concern for both countries were discussed threadbare.
In addition, the SCO Summit offers the prime minister an opportunity to pursue one on one diplomacy that has been his signature approach to foreign policy. Apart from this, Modi can also balance multilateral approaches with his personal preference as is evident from his statement that he was "excited" to be in China.
Indeed, if not anything, the SCO Summit would be a useful platform for India to rise to the occasion and emerge as a key stakeholder in maintaining peace and stability in the volatile Asian and Eurasian regions which, as mentioned earlier, would be the focus of great power attention in the coming years.