1

of 4 The Prime Minister landed in China to join the SCO Summit. This will be India's first SCO Summit as a full member. On the sidelines of the Summit, he will meet leaders of other member nations and discuss ways to boost bilateral cooperation. Prime Minister Narendra Modi on Saturday left for Qingdao, China, to take part in the 2018 Shanghai Cooperation Organisation (SCO) Summit where on the sidelines he will hold a bilateral summit with Chinese President Xi Jinping. This will be the first time India will be participating in the SCO Summit after being granted full membership of the bloc, along with Pakistan, in June 2017. The SCO is an Eurasian inter-governmental organisation, the creation of which was announced in 2001 in Shanghai by Kazakhstan, China, Kyrgyzstan, Russia, Tajikistan and Uzbekistan. It was preceded by the Shanghai Five mechanism.
Credit: Twitter/PMOIndia
2

of 4 "SCO focusses on political, economic, security and cultural cooperation and enables India to engage with Central Asian countries," External Affairs Ministry spokesperson Raveesh Kumar tweeted as Modi departed.
Credit: Twitter/PMOIndia
3

of 4
After his arrival on Saturday afternoon in Qingdao, Modi is scheduled to hold the bilateral meeting with Xi. It comes over a month after their informal summit on April 27-28 in Wuhan on a Chinese invitation, when they pledged to keep the India-China border quiet and personally guide their respective armies to avert a Doklam-like military stand-off in future.
Credit: Twitter/PMOIndia
4

of 4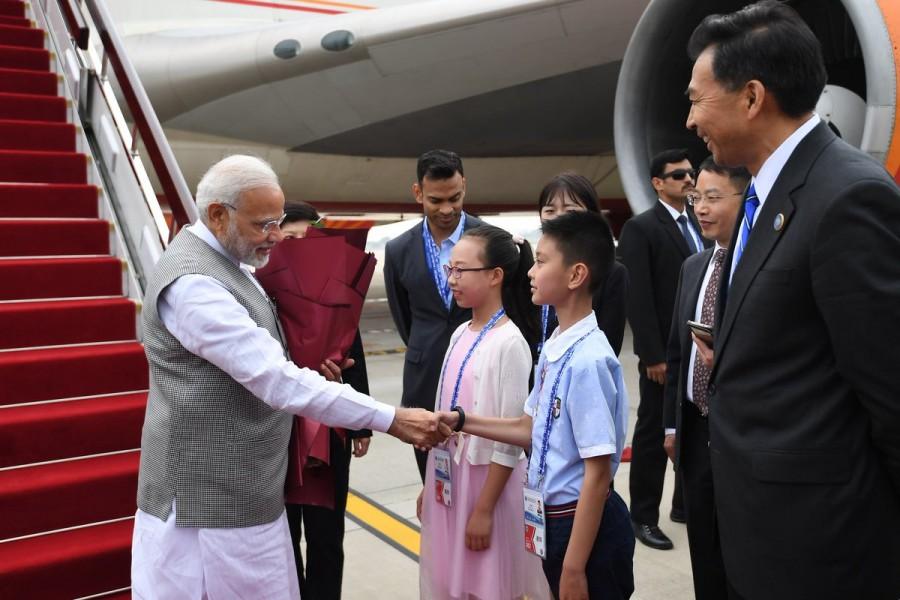 Modi is also expected to hold bilateral meetings with leaders of other SCO member states on the sidelines of the Summit.
Credit: Twitter/PMOIndia