Pippa Middleton is being dubbed as "world's most famous bridesmaid" as she grabbed a lot of attention during her sister Kate Middleton's marriage to Prince Williams in 2011. Then she stole the show wearing a body-hugging white gown.
Again, she turned heads at Prince Harry and Meghan Markle's wedding in a long-sleeved pale green silk dress with pink floral motifs by The Fold. But this time the reason is a little different.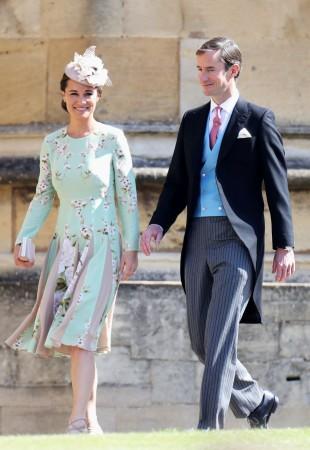 During the wedding of Duke and Duchess of Cambridge, Pippa's curve-hugging gown went viral for her shapely bottom. This time also critics were not left disappointed as they quickly compared her dress with the bottle of Arizona Ice Tea.
Several Twitter users quickly chimed in on the social media website saying that the 34-year-old mother-to-be's dress bore an uncanny resemblance to the iced tea bottle.
Check out some of the Twitter reactions here.
Completing her look with a rose-coloured fascinator and strappy heels, Pippa looked radiant as she was seen walking into the service holding her husband Matthew's hand. She was joined by her mother Carole Middleton, father Michael Middleton and brother James Middleton.
Meanwhile, Middleton's sister the Duchess of Cambridge's dress also sparked a bit of controversy as her pale yellow Alexander McQueen dress looked like a white-coloured ensemble in the pictures. Many took to Twitter to slam the mother-of-three saying that no one must wear a white ensemble except the bride on the wedding day.