1

of 5
Master blaster Sachin Tendulkar gave a thumbs up to Diljit Dosanjh's upcoming flick, 'Soorma' after attending the screening of the film. 'Soorma' is based on the life of legendary hockey player Sandeep Singh. Taking to his Twitter, Tendulkar stated that the movie is a must watch as he praised the inspiring story. "A real story portrayed beautifully on reel. @flickersingh's determination to play for India is truly commendable, enjoyed watching #Soorma a lot. My best wishes to the entire cast and crew. @imangadbedi @diljitdosanjh @taapsee," he wrote.
2

of 5
Milap said: #Soorma tells a strong story about a comeback against all odds. @diljitdosanjh lives the role! He is brilliant! @Imangadbedi gives his best performance till date! @taapsee is super! Vijay Raaz is terrific! Congrats Shaad Ali @SnehaRajani @SonyPicsIndia Pranjal!
3

of 5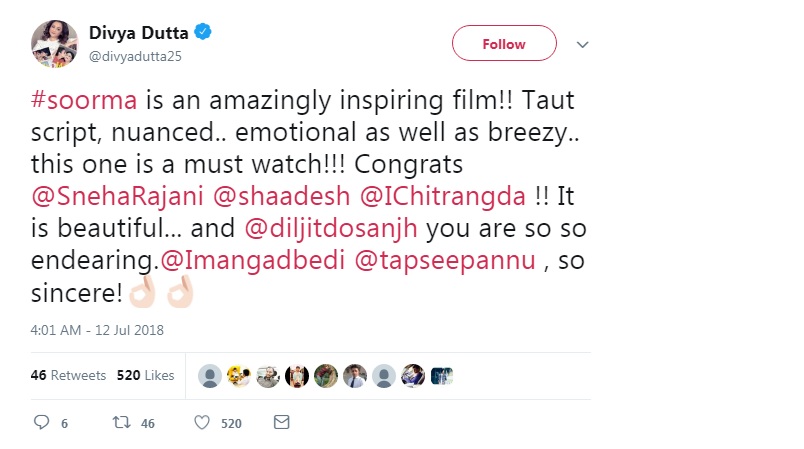 Divya Dutta posted: #soorma is an amazingly inspiring film!! Taut script, nuanced.. emotional as well as breezy.. this one is a must watch!!! Congrats @SnehaRajani @shaadesh @IChitrangda !! It is beautiful... and @diljitdosanjh you are so so endearing.@Imangadbedi @tapseepannu , so sincere!
4

of 5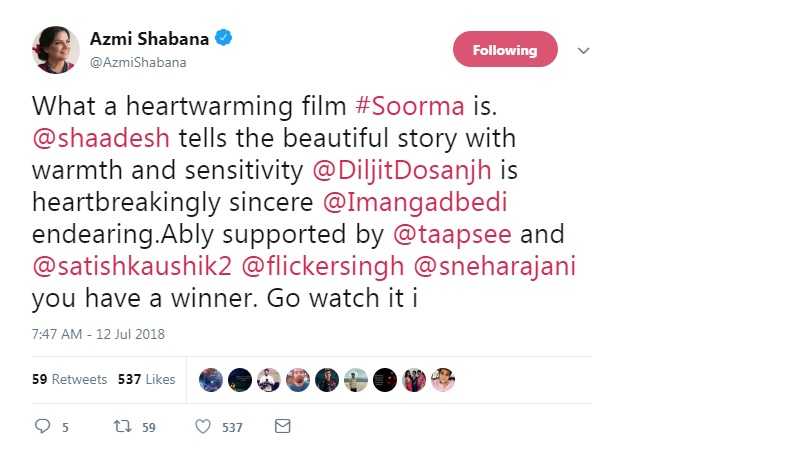 Azmi Shabana tweeted: What a heartwarming film #Soorma is. @shaadesh tells the beautiful story with warmth and sensitivity @DiljitDosanjh is heartbreakingly sincere @Imangadbedi endearing.Ably supported by @taapsee and @satishkaushik2 @flickersingh @sneharajani you have a winner. Go watch it i
5

of 5
Suresh Triveni said: One of the strongest performances of the year @diljitdosanjh ! Thoroughly enjoyed #soorma . Honest heartwarming and some really nice dialogues and moments ! @taapsee @Imangadbedi #shaadali @IChitrangda @SnehaRajani