1

of 5 Celebs Who Embraced Islam
The Article 9 of Indian constitution says, "Everyone has the right to freedom of thought, conscience and religion; this right includes freedom to change his religion or belief and freedom, either alone or in community with others and in public or private, to manifest his religion or belief, in worship, teaching practice and observance. So, there are notable celebrities from Kollywood who have changed their religions. Today, we look at those who have embraced Islam.
Credit: PR Handout
2

of 5
AR Rahman
AR Rahman is the popular among them who embraced Islam. He was born as AS Dileep Kumar. 10 years after his father's death, he met Qadri Sahib, a Sufi saint. The discussions with him had a great impact on him and he decided to convert to Islam. According to him, he did not like the name, so he changed it.
Credit: PR Handout
3

of 5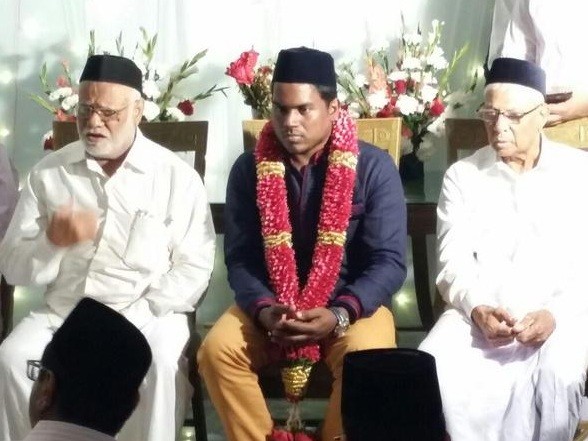 Yuvan Shankar Raja
Yuvan Shankar Raja found faith in Islam after his mother's death. His father and legendary musician Ilaiyaraaja, a staunch Hindu, was not happy to see his son leaving Hinduism for other religion, but in the end, he left the choice to his son. He changed his name to Abdul Khaliq. Later, it was speculated that the Mankatha music director converted to Islam to marry a Muslim girl.
Credit: PR Handout
4

of 5
Monica aka Rahima aka Rekha Maruthiraj
South Indian actress Monica was born in a Hindu family and her original name was Rekha Maruthiraj. She changed her name to Monica after she entered films. She rechristened herself as Parvana for Mollywood. Finally, she married a Muslim boy and converted to Islam, while changing her name to MG Rahima.
Credit: PR Handout
5

of 5
Simbu's Brother Kuralarasan
Simbu's brother Kuralarasan, son of veteran actor-filmmaker T Rajendar, converted to Islam to marry his sweetheart named Nabeelah R Ahmed. Interestingly, his decision to embrace a new religion was not opposed by his family members, but respected it.
Credit: PR Handout