1

of 3
Announcing the trailer to be out in 3 days, Akshay Kumar shared a new poster of Excel Entertainment's 'Gold' on social media. Stirring the curiosity of the audience with yet another intriguing poster, makers of Gold are all set to release the trailer on 25th June 2018. After showcasing the dream of Tapan Das to win free India's first gold medal with various posters, the latest poster gives a closer glimpse into the team leading to the victory. Featuring Akshay Kumar along with Kunal Kapoor, Amit Sadh, Vineet Singh and Sunny Kaushal amongst others, the poster showcases the boys in action. Sharing the poster on social media, Akshay Kumar said, "One generation dreamt it, the other achieved it. #GoldTrailer out on 25th June at 10 am. GOLD TRAILER IN 3DAYS".
2

of 3 Gold traces the journey of a man dreaming to win free India's first Gold in Hockey. The sports drama starring Akshay Kumar takes the audience back in time to witness the struggle of a team to make the nation proud. The upcoming sports drama 'Gold' starring Akshay Kumar releases this Independence Day marking 70 years of Free India's first Gold medal at the 1948 Olympics. India won its first Gold medal as an independent nation at the Olympics on the 12th of August 1948. Celebrating this historic occasion, the makers are all set to release the film on the 15th of August this year.
3

of 3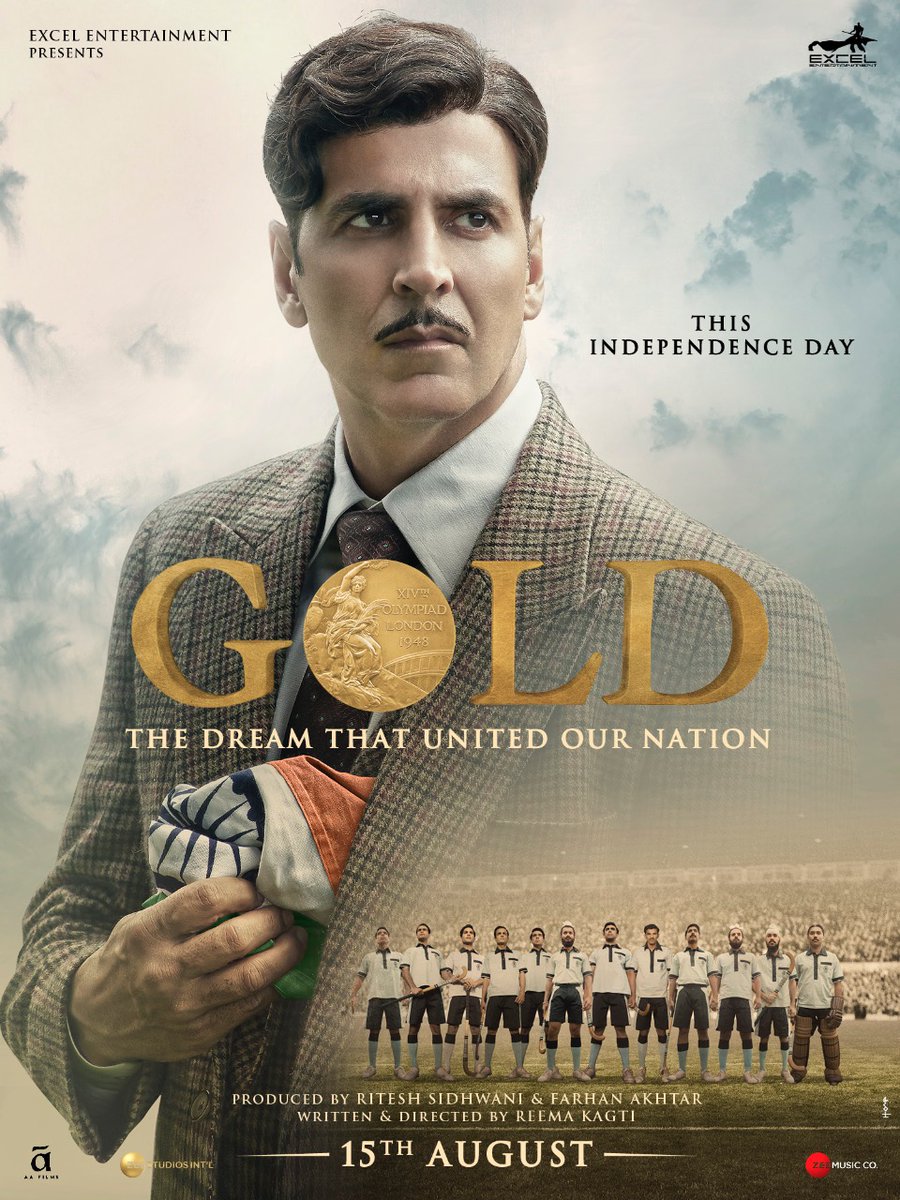 Gold not only marks the first ever association between Akshay Kumar and Excel Entertainment led by Ritesh Sidhwani and Farhan Akhtar but also is the debut of TV sensation Mouni Roy. Also starring Kunal Kapoor, Amit Sadh, Vineet Singh and Sunny Kaushal, Gold promises power packed performances by an ensemble cast. The teaser depicted the struggle for India's first Gold as a free nation. While we had won several medals under the British Raj, the story of this Gold medal was special. The film has been shot across the UK and India, capturing the fascinating aspects of the pre-independent era. Gold is produced by Ritesh Sidhwani and Farhan Akhtar, helmed by Reema Kagti and is all set to release on the 15th August 2018.