1

of 4
Ajay Devgn
Many from the industry, including Farhan Akhtar, Ajay Devgn, Emraan Hashmi and Taapsee Pannu have voiced their support for the ongoing movement. Here's what they said: Ajay Devgn: I'm disturbed by all the happenings with regards to #MeToo. My company and I believe in providing women with utmost respect and safety. If anyone has wronged even a single woman, neither ADF nor I will stand for it.
2

of 4
Taapsee Pannu
Taapsee Pannu said More than the names it's the description of the way things happened is what is disturbing me the most. Makes me have this terrible feeling that we have discovered only the tip of this iceberg. #Metoo
3

of 4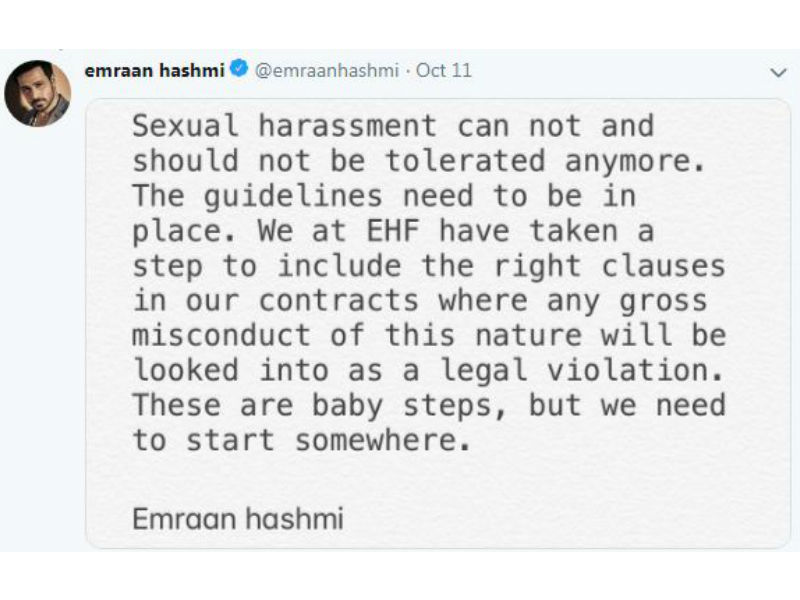 Farhan Akhtar
Farhan Akhtar posted I cannot adequately stress how shocked, disappointed and heartbroken I am to read the stories about Sajid's behaviour. I don't know how but he will have to find a way to atone for his alleged actions.
4

of 4
Emraan Hashmi
Emraan Hashmi posted Sexual harassment cannot and should not be tolerated anymore.