A pregnant cow, who is just three weeks away from giving birth, is facing a death sentence for illegally crossing the European Union (EU) border. The cow, named Penka, carelessly walked away from the herd near the Bulgarian cillahe of Kopilovtsi and crossed the border into a non-EU country, Serbia.
Now, thousands of activists have signed an online petition on change.org to prevent the death sentence of Penka.
Meanwhile, the cow was returned to its owner, according to Agence France Presse. But the four-legged animal has to be put down due to its strict EU rules despite being given a certificate of perfect health by the vets.
Lyubomir Lyubomirov, a veterinary expert told the agency, "It is not for us to decide. We are only implementing rules that come from Brussels."
Aside from the activists, John Flack, a Conservative MEP, has written to Bulgarian Prime Minister Boyko Borissov and the president of the European Union, Antonio Tajani, in a request to show compassion on Penka's case.
"Surely this is a case where pragmatism should prevail over a strict reading of the rules," he was quoted saying.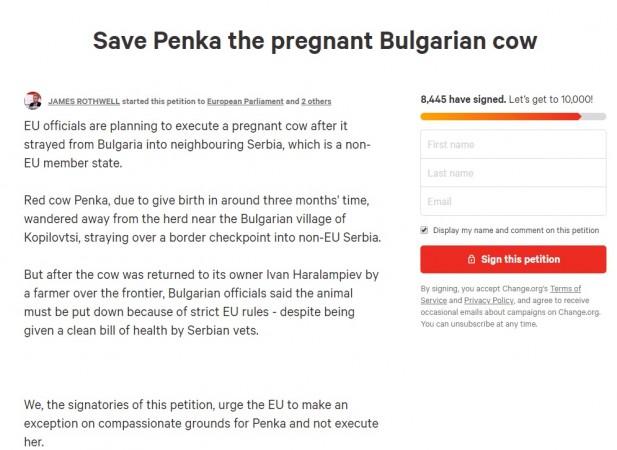 The motto of the online petition on change.org, which earned around 8,500 signatures (at the time of writing the article), states, "We believe that Penka's case reflects a lack of compassion on the part of EU officialdom for everyday people, such as Penka's owner, who is absolutely distraught."
According to EU guidelines, any animal must be presented with documents proving that it is healthy while crossing the border checkpoints.
It says: "The certification must accompany the animals en route to the EU and when they are presented for entry into the EU at an approved EU Border Inspection Post."
Is the Cow going to appeal against the decision? Technically, being an animal it does not know it is breaking the law. I'm pretty sure some Lawyer will milk it for all it's worth.

— Michael Andrews (@MJohnA01) June 2, 2018