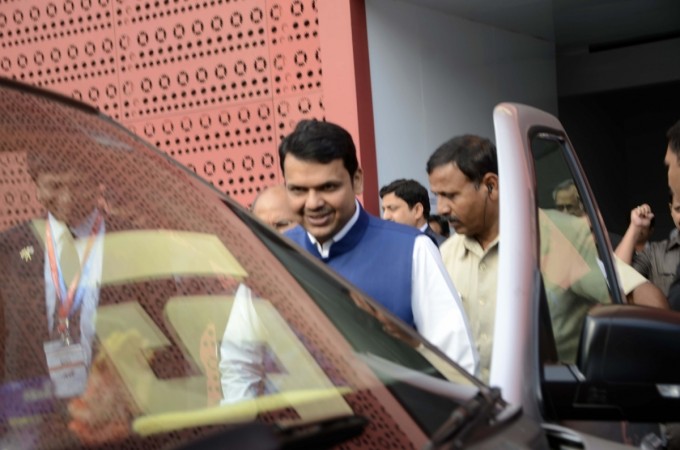 A complaint has been filed against Maharashtra Chief Minister Devendra Fadnavis by a Nagpur-based RTI activist for allegedly "misusing his position" by transferring bank accounts of at least two lakh police officials from public sector banks to Axis Bank, where the CM's wife holds a senior position.
The activist, Mohnish Jabalpure, has filed a petition before the Bombay High Court's Nagpur bench and asked the Enforcement Directorate to launch a probe against Fadnavis, who reportedly caused a huge loss to the nationalised banks while promoting the leading private sector bank.
"I have already filed a public interest litigation in Bombay High Court (Nagpur bench) in this regard which is expected to come up for hearing on Thursday (August 29). Earlier, I have written letters to the Chief Secretary but no action was taken in the matter," Jabalpure told IANS.
He further claimed that through a circular on May 11, 2017, funds meant for widows and handicapped were also transferred to Axis, where Fadnavis's wife, Amruta Fadnavis, is the Vice-President and Corporate Head (West India). Jabalpure, in his petition, demanded a probe into this circular and demanded Axis Bank to submit an audit report from 2017 to 2019.
The Bombay High Court on Thursday sought the Maharashtra government's assistance in the case. A division bench of justices PN Deshmukh and Pushpa Ganediwala heard Jabalpure's petition. The court asked the government to study the case, assist it on the issuance of notices to respondents and adjourned the court for two weeks.
Along with CM Fadnavis and his wife, Maharashtra chief secretary, Axis Bank and State Bank of India are the respondents in the case.
However, advocate Satish Uke, appearing for Jabalpure, requested the court on Thursday to remove Amruta's name from the petition. The court allowed the petitioner to do so. The bench also refused to issue any notices at this stage.