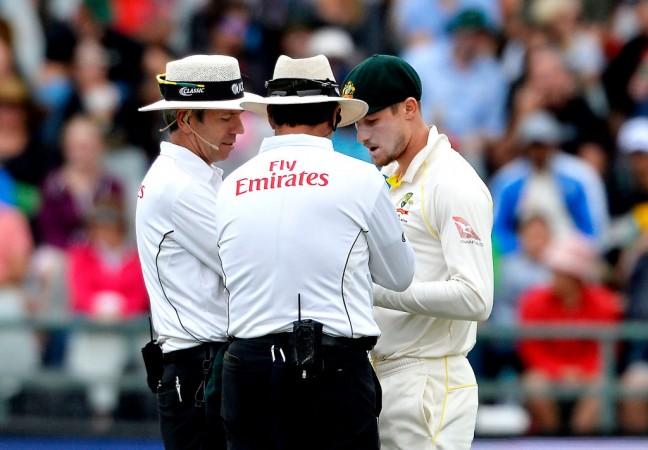 Adding a new twist to the ball-tampering saga which rocked Australian cricket earlier this year, Peter Handscomb has said that the video that surfaced online was edited.
The 'tampered' version showed him relaying a message from Darren Lehmann to Cameron Bancroft after which the batsman shoved the sandpaper inside his trouser.
In the video, which did the rounds on social media and various news channels, the Australian opener was captured on camera rubbing a piece of sandpaper on the cricket ball. However, when Darren Lehmann spotted it, he was seen speaking with Peter Handscomb over a walkie-talkie who then ran out and relayed the message to Bancroft. Cut to the action on the field, both players were seen exchanging smiles after which Bancroft hid the yellow piece of paper inside his pants.
Handscomb presents his case
However, Handscomb now claims that both the shots were taken 20 minutes apart and the entire episode was edited and portrayed him in a bad light.
"I love that footage because it's actually amazing how much the media edited it. So, it shows me on the walkie-talkie then running out and talking to Cam (Bancroft). What happened, I am on the walkie-talkie. Twenty minutes, 25 minutes later, a player comes off because they need to go to the bathroom. I am next to it so that's why I come on," Handscob said.
Speaking about what he spoke to Bancroft, he said that since he too has fielded in the short leg position, they discussed about the drill.
"I get put into a catching position next to Cam because we are both short catches... we are front of the wicket catchers or in slips together," he added.
"That's why I was there, literally just trying to have a joke with him. There was nothing else. All this build-up about me trying to do something there, it wasn't there," he further added.
Handscomb also conceded that playing a Test match after the entire episode was a bit of shame and hopes that he can make an impact when he plays for the Australian A side.