Former South Africa all-rounder Fanie de Villiers, who is working for a television broadcaster in his country, has revealed he had instructed camera operators to keep an eye on Steve Smith and his men during the third day of the recently-concluded Test in Cape Town after suspecting ball-tampering.
The 53-year-old, who represented the Proteas in 18 Tests and 83 ODIs, said his suspicion was triggered when Australian bowlers reverse-swung the red cherry on a grass-covered Newlands Cricket Ground surface as early as in the 26th over of the second innings.
De Villiers' gut feeling was proved right when television cameras caught Cameron Bancroft red-handed. The opening batsmen and Smith were then left with no option but to concede involvement in ball-tampering Saturday, March 24.
The much-publicized footage showed Bancroft using a foreign substance — a yellow tape to illegally alter the condition of the red cherry and stuffing it in his pants to escape action from on-field umpires during the third day of the Test, which Australia lost by a massive 322-run margin.
Head coach Darren Lehman's involvement in the issue is also suspected despite Smith's rebuttal of such claims as he was seen suspiciously covering his mouth after the hosts' broadcasters repeatedly showed Bancroft tampering with the ball Saturday.
Lehman was also spotted passing on instruction to substitute fielder Peter Handscomb, following which the latter ran onto the field and alerted Bancroft. Eventually, Smith conceded ball-tampering was a pre-planned tactic by the leadership group, who had met during lunch on Day 3 to discuss it.
According to the Telegraph, Lehmann is set to step down as Australia coach in the next 24 hours.
'Go out and have a look, boys'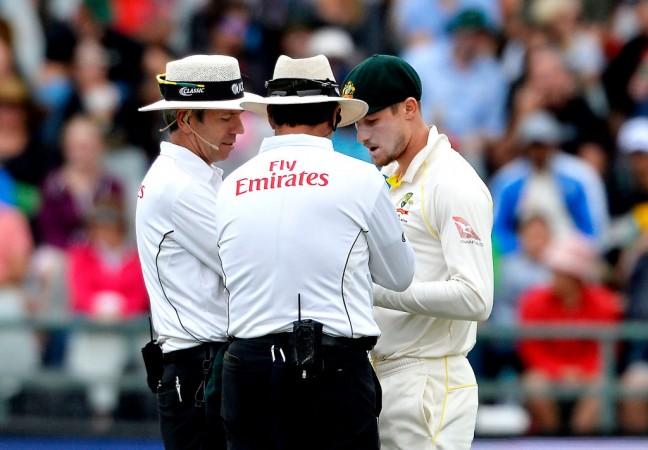 "It's impossible for the ball to get altered like that on cricket wickets where we knew there was grass on, not a Pakistani wicket where there are cracks every centimeter. We are talking about a grass-covered wicket where you have to do something else to alter the shape, to alter the roughness of the ball on the one side," de Villiers told Australian radio station RSN.
"I said earlier on that if they could get reverse swing in the 26th, 27th, 28th over then they are doing something different from what everyone else does. We actually said to our cameramen, 'go out [and] have a look, boys. They're using something.' They searched for an hour and a half until they saw something and then they started following Bancroft and they actually caught him out at the end," he added.
"Australian teams getting reverse swing before the 30th over, they had to do something. If you use a cricket ball and scratch it against a normal iron or steel gate or anything, anything steel on it, it reverse swings immediately. That's the kind of extra alteration you need to do."
Smith, Warner facing lengthy bans over 'Australia's national shame'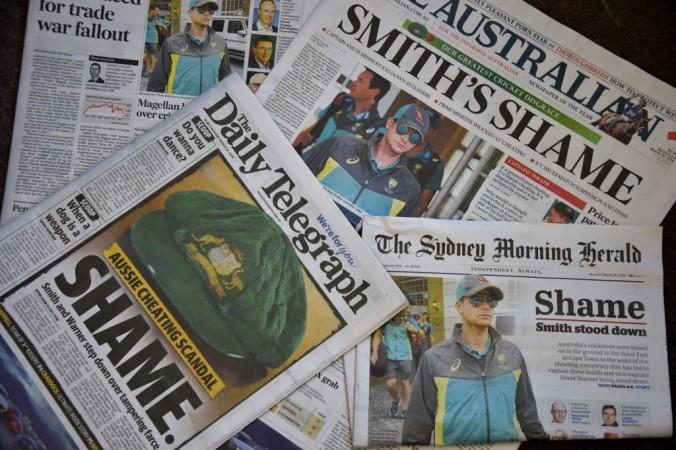 The incident has sparked widespread furor among the cricket fraternity and is being dubbed as "Australia's national shame," by the media. Even Australian prime minister Malcolm Turnbull reacted to the row, saying it was "shocking disappointment" to fans in the country.
Smith and David Warner were forced to stand down from roles of captain and vice-captain after Australian Sports Commission demanded their resignation. Notably, the former had refused to give up captaincy in response to a question during Saturday's press conference.
Even as former cricketers are severely criticizing Smith and his men, the International Cricket Council (ICC) slapped a one-match ban and 100 percent match fee as fine on the former captain.
Cricket Australia (CA), which is investigating the ball-tampering incident in South Africa, has decided to ban Smith and Warner for a year. Coach Lehman will also step down from his role, according to Daily Telegraph.
Meanwhile, Indian Premier League franchise Rajasthan Royals announced Monday, March 26 they replaced Smith with Ajinkya Rahane as captain. Sunrisers Hyderabad are reportedly waiting for CA's verdict before initiating action against their title-winning captain, Warner.