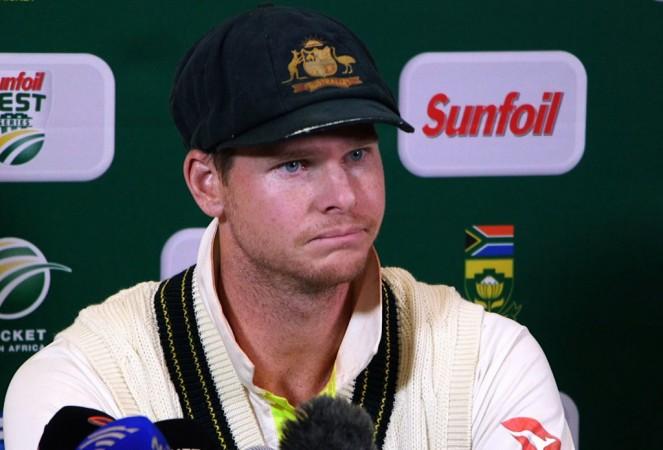 Even as former cricketers and fans are calling on Steve Smith to resign as Australia cricket team captain after he admitted his involvement in the much-talked-about ball-tampering controversy, a few on Twitter are also demanding Rajasthan Royals to sack the 28-year-old as skipper for the upcoming 11th edition of Indian Premier League (IPL).
Cameron Bancroft, the most junior member of the team, was charged by the International Cricket Council (ICC) after he was caught on television cameras using a yellow tape to alter the condition of the cricket ball during the third day of the ongoing third Test against South Africa in Cape Town.
Smith rules out stepping down as Australia captain
Following the end of the day's play, skipper Smith confessed to having orchestrated the ball tampering along with "leadership group" — senior members of the team. The right-handed batsman insisted he was "embarrassed" about the incident but maintained he wouldn't step down as captain.
The incident comes as a big blow to Australian cricket team's reputation and is being considered as the worst captaincy crisis since 1981 when former skipper Greg Chappell advised his younger brother Trevor to bowl the last ball of a 50-over match against New Zealand underarm to secure a victory, according to Reuters.
Going by the book, Smith and his men may escape serious consequences as ball-tampering is a Level 2 offense which can lead to one-match suspension and 100 percent match fee as fine.
Smith faces heat from former cricketers, Royals fans
Several members of the cricket fraternity, including former cricketers, are hoping Cricket Australia (CA), which has launched a probe into the incident, strips Smith of national team captaincy.
While former Australia captain Michael Clarke called Smith's actions "blatant cheating", his English counterpart Michael Vaughn expressed shock at the way 25-year-old Bancroft was used as a pawn by the senior pros.
"Unfortunately this is blatant cheating and Steve Smith will have to step down as Australian captain, former Australia fast bowler Rodney Hogg wrote on Twitter.
Unfortunately this is blatant cheating and Steve Smith will have to step down as Australian captain.

— Rodney Hogg (@RMHogg) March 24, 2018
What I find appalling in all this is the Youngster got given the Job .. Was it because someone in the team had been accused of using Hand tape for a similar affect !!!!!!! So they wanted someone else to take the mantle .... Disgraceful behaviour by senior pros ... #SAvAUS

— Michael Vaughan (@MichaelVaughan) March 24, 2018
WHAT THE ........ HAVE I JUST WOKEN UP TO. Please tell me this is a bad dream.

— Michael Clarke (@MClarke23) March 24, 2018
WHAT THE ........ HAVE I JUST WOKEN UP TO. Please tell me this is a bad dream.

— Michael Clarke (@MClarke23) March 24, 2018
Members of this Australian "leadership group" are IPL captains. Surely Franchises are closely watching all this unfold #SAvAUS

— Gaurav Kalra (@gauravkalra75) March 24, 2018
The ball-tampering saga, which has been labeled as #SandPaperGate by social media users, has left the Royals in a tricky situation.
The Rajasthan-based IPL franchise, who are coming back to the league after serving a two-year suspension over corruption charges, had retained Smith for Rs 12.5 crore even before the auctions held in January.
While one cannot question Smith's ability to deliver results as captain and his credentials as top-order batsman, the Royals should be worried about the reputation of their brand.
IBTimes, India has compiled a list of reactions from IPL fans to Smith's involvement in the ball-tampering incident. Check them out here.
@rajasthanroyals
steve smith should be banned from playing cricket;if he is in rajasthan royals then not coming to watch the match ;he is a cheater ??????????????????????????

— Narayansingh (@Narayan76656041) March 24, 2018
Do the Rajasthan Royals still want Steve Smith to be their captain after he conspired with his leadership team to tamper the ball? Terminate Steve Smith's contract!

— Ragu Raghupathi (@RaguRaghupathi) March 24, 2018
BAN STEVE SMITH..... Rajasthan Royals don't need another CHEATER !!!!

— Jay Kumar (@starjay009) March 24, 2018
Withdraw Steve Smith as a captain of Rajasthan Royals. A man of his integrity isn't fit to be captain, much less play in this league. #sandpapergate

— Jayanth Kumar (@jayanthkumarak) March 24, 2018
Feels now Bangladesh, played in better spirit then these Morons. Lost respect for steve smith. Rajasthan royals, we dont want this player as a Captain. Already you are back from a ban.
Now this player shud not lead nd set a bad example in India. #SandpaperGate

— Niks_Rahul (@niks_rahul) March 24, 2018
Rajasthan Royals must sach Steve Smith. IPL should ban Steve Smith for life. Indian Cricket fans do not need cheats to spoil this game. @rajasthanroyals @BCCI @IPL

— Jaitlie (@Jaitlie) March 24, 2018
This was big blunder by australians. Steve Smith is Rajasthan Royals captain. Who should be the captain now ? #rahane #bancroft

— Ankit Tater (@ankit_tater) March 24, 2018
Rajasthan Royals should names Ajinkya Rahane as their Captain for the #Ipl2018. They should Sack Steve Smith after the #SandPaperGate controversy in #SAvAUS Test match

— SUBHAM DAS (@Itssub_ham) March 25, 2018
Notably, this is not the first time Smith is involved in a stunning controversy. The Australia captain had received flak for seeking help from the dressing room over a DRS call during the second Test of a four-match series in India last year.
India skipper Virat Kohli stopped short of calling Smith a "cheater" after the latter admitted he had suffered a "brain fade" during the said Test.