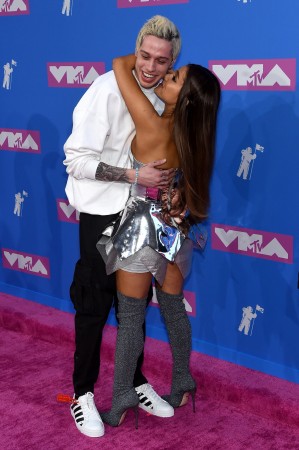 It's been a painful time for singer Ariana Grande and 'Saturday Night Live' star, Pete Davidson. The couple broke up after a four-month-long engagement and also following the death of Ariana's former boyfriend, Mac Miller. However, Pete Davidson recently ended his silence on the breakup and instead spoke out about his split and even laughed about it.
Recently, Pete Davidson made his first stage appearance since the split, co-hosting the comedy show Judd & Pete for America, benefiting Swing Left at Largo at the Coronet in West Hollywood, with Judd Apatow.
The comedian told the crowd, "Well, as you could tell, I don't want to be here. There's a lot going on. Does anybody have any open rooms? Looking for a roommate?"
During the course of their whirlwind romance, Grande and Davidson had got quite a few matching and tribute tattoos together. Addressing this, Pete joked about covering one of the tattoos, "Um, I've been covering a bunch of tattoos, that's fun," Davidson told the crowd. "I'm f--king 0 for 2 in the tattoo [department]. Yeah, I'm afraid to get my mom tattooed on me, that's how bad it is."
Meanwhile, Grande recently made her first post-split appearance, at a taping of NBC's A Very Wicked Halloween, and was seen wearing a Band-Aid over one of her tattoos.
"So, obviously you know I, we [Ariana and I] broke up or whatever but when me and her first got engaged we got tattoos," Pete said to the crowd. "And it was like in a magazine like, 'Was Pete Davidson stupid?' And 93% of it said yes," Davidson told the audience. "So my boy, he was like, 'Don't listen to that s--t man. They're literally f--king haters.' And I'm like, yeah, f--k that. I'm not stupid. And the other day we were in my kitchen and he was like, 'Yo bro. Turns out you were stupid.'"
Ariana Grande also broke her silence on their breakup last week, writing in a since-deleted Instagram post, "Time to say bye bye to the internet for just a lil bit. it's hard not to bump news n stuff that i'm not tryna to see rn. It's very sad and we're all tryin very hard to keep goin. love u. and thank u for bein here always."