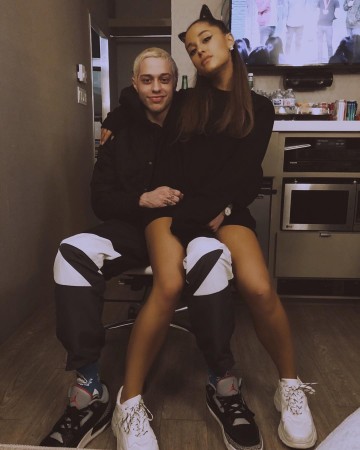 The cruel rumour about Pete Davidson taunting late rapper Mac Miller with intimate pictures of Ariana Grande right before his death has left the 'Saturday Night Star' disgusted. According to a report by Hollywood Life, Davidson who recently split from fiancée Grande is also afraid that the viral hoax will affect his chances of reuniting with the songstress.
The rumour that Davidson set the pictures to Miller in order to end his hopes of ever getting back with Ariana, spread like wild fire creating quite the stir online. A source close to Pete revealed to Hollywood Life, "Pete is disgusted that somebody would be cruel enough to make up a hoax about him sending intimate photos of Ariana to Mac Miller."
The source continued, "Pete is already going through a really difficult time with his break up and the last thing he needs is an internet troll getting some sort of weird kick out of using his name in such a heartless way."
Following Miller's death, Pete and Ariana called off their 4-month-long engagement, leaving him worried that the whole scandal will drive the singer further away from him than ever. "He has still been holding onto the hope of reconciling with Ariana at some point," the source revealed. "And he feels that even though this was just a cruel prank, he is furious at the thought that this might push Ariana away even more. Pete would never do anything like that to Mac and he thinks people are just trying to kick him when he's already down."
Adding to the horrible rumour is that once Ariana found out what her fiancé did, she broke up with him. What makes this news update especially disturbing is that it cites TMZ as the source. However, according to a report by Hollywood Life, TMZ had no role to play in this cruel joke nor has the site written any such story.
Hollywood Life reported one such tweet which appears like a mock article, "According to TMZ, Pete Davidson sent intimate photos with Ariana to Mac Miller as a way to end the rapper's hopes about her. Ariana discovered this this [sic] weekend from Mac's relatives and ended the relationship."