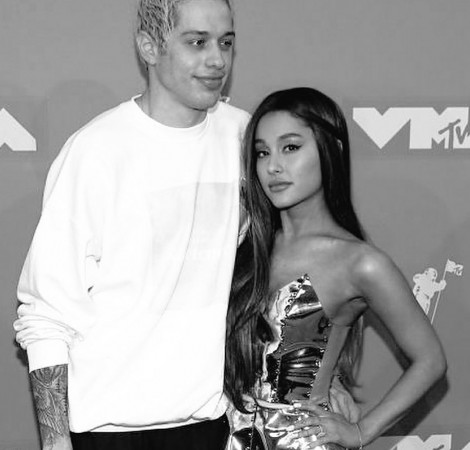 After ending their four-month-long engagement, Ariana Grande and Pete Davidson continue to be making headlines and not for the best reasons. The couple who split shortly following the death of rapper Mac Miller who was romantically involved with Grande before Davidson came along, is once more embroiled in what seems to be a horrible internet hoax.
The question everyone seems to be asking – Did Pete Davidson really send intimate pictures of Ariana Grande to Mac Miller?
A rumour has broken out alleging that Pete Davidson sent Miller pictures of his singer girlfriend in order to crush every hope that he may have of them ever reuniting. Fans of Ariana and Miller are furious and are exhibiting their anger online.
Adding to the horrible rumour is that once Ariana found out what her fiancé did, she broke up with him. What makes this news update especially disturbing is that it cites TMZ as the source. However, according to a report by Hollywood Life, TMZ had no role to play in this cruel joke nor has the site written any such story.
Hollywood Life reported one such tweet which appears like a mock article, "According to TMZ, Pete Davidson sent intimate photos with Ariana to Mac Miller as a way to end the rapper's hopes about her. Ariana discovered this this [sic] weekend from Mac's relatives and ended the relationship."
Fans have responded to the rumour – One such tweet reportedly reads, "I used to love Pete Davidson but knowing that he purposefully sent Mac Miller intimate pictures of him & Ariana to kill Mac's hope literally made me lose every ounce of respect for him. That's so unbelievably cruel." Another wrote, "Pete Davidson is a literal f***ing a**hole. I just read he sent intimate pictures of him and Ariana to Mac to end Mac's hopes about her. I'm in shock someone would really be that dirty."
Ariana recently took to Instagram to address her split with Pete Davidson for the first time after she called off their engagement.
The 'Sweetener' singer posted a story on Instagram on Tuesday night where she wrote, "time to say bye bye to the internet for just a lil bit. it's hard not to bump news n stuff that i'm not tryna to see rn," she continued. "it's very sad and we're all tryin very hard to keep goin. love u. and thank u for bein here always. [sic]"
This was the first time she addressed her breakup with Pete and later deleted the post within a few hours.