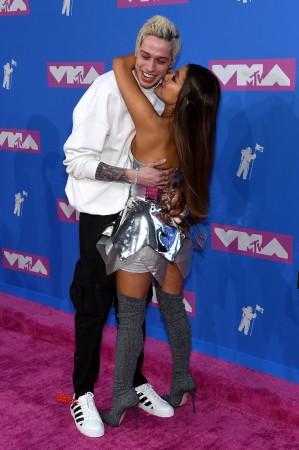 Ariana Grande has reportedly returned the engagement ring Pete Davidson gave her. It was recently revealed that the couple have ended their four-month engagement.
Ariana and Pete started dating in mid-May and were engaged in June. The 3-carat pear-shaped engagement ring, worth $100,000, reportedly took two weeks to be made.
A source told Hollywood Life: "The ring was a huge symbol of their love and was hard to give up. She's still grieving the loss of the relationship and needs some time to adjust to life without Pete."
"Calling off the engagement was Ariana's choice, but she is still heartbroken and never wanted to hurt Pete. She can't imagine being in another relationship right now, with Pete or anyone else," the insider added.
Meanwhile, the SNL star is hoping that the two might reconcile. The source went on: "Pete is absolutely devastated that things didn't work out, Ariana really is the love of his life, and his soul mate, his everything. Pete's hoping that all is not lost though. And that they will be able to get back together again in the future, and still have their fairytale ending."
"Pete's been there," the insider added. "He's been in that dark place himself, after losing his dad, so he understands the importance of healing, and the intensity of emotions and anxiety severe trauma can throw up. Pete still wants to be there for Ariana, even if it's just as a friend, but he agrees they are best apart, for now at least."
Meanwhile, it has been a difficult time for Grande after the sudden death of Miller. The Swimming rapper was found dead on September 7 at his San Fernando Valley home.
On September 27, Ariana took to Twitter to express her emotions.
"Can i pls have one okay day. just one. pls," Ariana first tweeted, before adding, "i'm so f**ing tired pls" and "jus wake me up when i'm supposed to sing or whatever. peace. [sic]"