Ariana Grande took to Instagram to address her split with Pete Davidson for the first time after she called off their engagement.
The 'Sweetener' singer posted a story on Instagram on Tuesday night where she wrote, "time to say bye bye to the internet for just a lil bit. it's hard not to bump news n stuff that i'm not tryna to see rn," she continued. "it's very sad and we're all tryin very hard to keep goin. love u. and thank u for bein here always. [sic]"
This was the first time she addressed her breakup with Pete and later deleted the post within a few hours.
The singer made her first appearance after the split at the taping of A Very Wicked Halloween: Celebrating 15 Years on Broadway. Along with the note, she posted a few selfies and added a short note talking about her mental health since the breakup.
She wrote, "Can't believe I almost let my anxiety ruin this for me today!! Not today satan! Not tomorrow or the next day either not no more u can suck my big green d--k. finna sing my heart out and be a big walking vessel of love bye."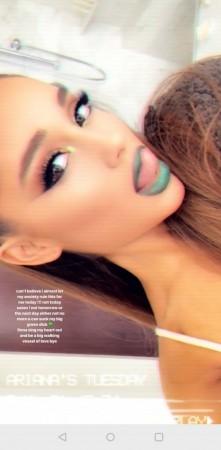 The 26-year-old singer has made very few public appearances since the death of her ex-boyfriend Mac Miller. His death affected her and Ariana has been trying to cope with that for a while now.
A source told E!News, "She has been struggling emotionally and is not in a situation where she should plan a wedding. She had to take a step back and just breathe for a minute. She's been completely overwhelmed and wants to slow down."
Another source said that she has truly been hurting after Miller's death. "Ariana hasn't given herself enough time for the grieving and healing process, and feels like her emotions are out of control," said the source.