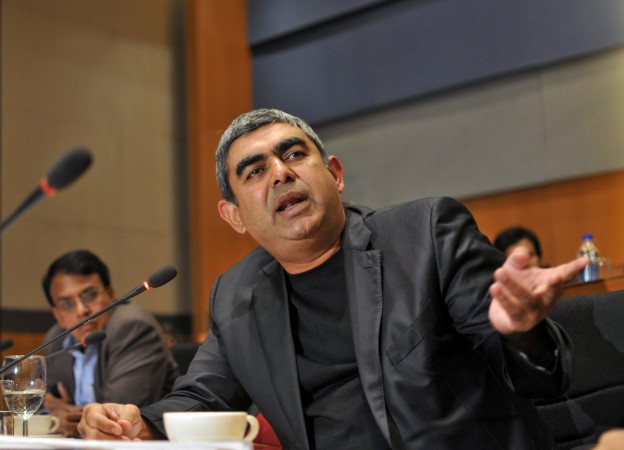 Former Infosys CEO Vishal Sikka, who left the company following differences with its founders, has hit out at lead company founder Narayana Murthy, blaming "sniping" from the Indian IT group's co-founder for his abrupt resignation, says an interview he gave to the Financial Times (FT), London.
Sikka left Infosys on Friday last. Nandan Nilekani, another co-founder, has now taken over as non-executive chairman of Infosys in the interim. He has been tasked with finding a new CEO to lead the company, which according to many shareholders, has performed creditably under Sikka's watch.
In his first interview since leaving Infosys, Sikka told the Financial Times from his home base in Silicon Valley that his efforts to reshape the company would have been "difficult if everybody was supporting it, but if the founder goes up against that then it becomes impossible".
Noting that he felt undermined by criticism from Murthy, who had complained of an erosion of Infosys's values of transparency and humility under Sikka, the FT report said.
Those are two board members who are very close to him but he threw them under the bus by taking their private communications out of context... I don't want to blame Murthy, he's an iconic leader. But it is just [such] distractions, this constant drama, waking up to respond every morning to media queries on completely nonsensical things, that just got to the point where you really can't do your job any more.

- Vishal Sikka, former chief executive of Infosys Ltd
"I think I had very strong employee support," Sikka was quoted as saying by FT. "But what happens when you have something like this, when you have an iconic founder questioning governance and questioning the value system in the wrong way," he said. "The lesson I learnt here is the founder's influence is very strong."
During his eventful tenure, Sikka strived to move the company away from labour-intensive work in business software installation and maintenance, which was at risk from a backlash against globalisation in the US and Europe.
Sikka told FT that he left after being undermined over many months, without any specific falling out with Murthy, who stepped down as Infosys chairman in 2014. He claimed full support from the company's board. This was despite a private email from Murthy leaked to the media shortly before his departure, that described criticisms of Sikka by two other Infosys board members.
Sikka said that Murthy had stuck with the company's old "value system", with a focus on what he called "reactive" work for customers at the lowest possible cost, the report said.
He suggested in the report that an acute "cost consciousness" on the part of the Infosys founder, which had been deeply baked into the company's culture, was part of the reason for Murthy's attacks. "When this sort of public questioning of governance, of fundamental, structural things starts, then the long-timers start to wonder, who is really in charge here? You cannot have that. So that was the issue," the FT report quoted Sikka as saying.
Sikka had been criticised for his pay and his use of private jets, the report noted. It quoted him as responding that his own calculations showed that only 17 of his 116 flights last year were by private jet, lasting 39 of the 789 hours he was in the air. He also said the flights were necessary to get to meetings, the report said.
In a written response to FT, Murthy said his concerns had been about governance standards rather than Sikka's strategy, and defended his efforts to tackle this subject through private emails to the Infosys board. He further questioned whether Infosys had responded properly to anonymous allegations around the $200 million acquisition of Panaya under Sikka — claims that the company has rebutted as baseless, citing investigations by outside law firms which it says exonerated the company and board of any blame.
Murthy rejected Sikka's claims that he was too attached to Infosys's traditional model, saying that he had himself stressed the need for the company to evolve into "reactive problem solving". Murthy said, "Being innovative does not require one to be profligate", FT reported.
The appointment of co-founder Nandan Nilekani has been received as an effort to assuage Murthy's unhappiness about the supposed weakness of the board, the FT report noted. The founders hold an aggregate 12.8 per cent of the company's shares.