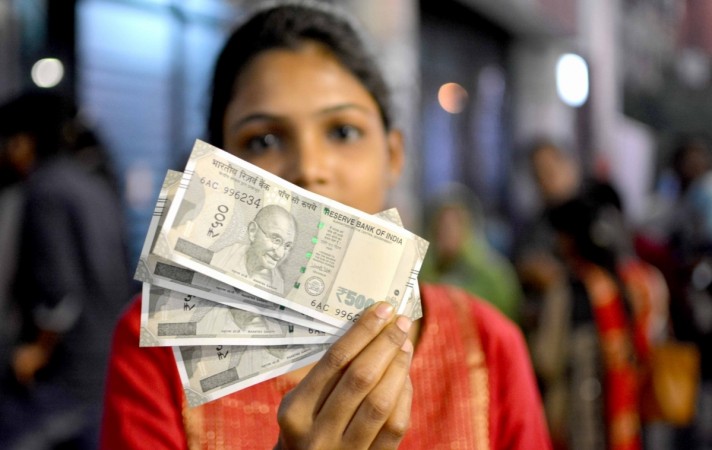 Banks across India sought police protection and put their own limits on withdrawals on Wednesday as the pay day chaos is all set to begin from December 1 with employees receiving their salaries from government and private firms. Queues outside banks and ATMs are getting longer and cash is running out quicker.
According to bankers, branches are yet to receive the new Rs 500 notes, while the Rs 100 notes are in short supply. People are reluctant to accept Rs 2,000 notes as no one would be able to provide change for such a huge amount.
"We seek the intervention of the Indian Banks' Association to advise banks to ask for police protection in branches to provide proper security to the staff," banks unions told the association in a letter. They have already warned that the next week to 10 days would be "much more tense because a huge number of employees, workers and pensioners would throng bank branches to draw from their salary credit and non-availability of enough cash may lead to serious issues of law and order."
Bank branches have also said that they are receiving less than half the cash required on a daily basis with several running out of cash within hours of opening shop. An individual can withdraw Rs 24,000 per week, but banks in several cities did not allow withdrawals of more than Rs 10,000 per person on Wednesday. Some branches reduced the amount to Rs 4,000.
The government has put a cap of Rs 24,000 on what a person can take out in a week and all of it can be done in one go. However, on Wednesday banks in major cities were giving out no more than Rs 10,000 per person, and shrinking the amount to Rs. 4,000 at some branches.
"Banks have already started seeing more crowd. Since old people are not familiar with net banking, they prefer coming to the branch," a bank official told Hindustan Times.
"Angry customers, who did not get cash, locked up bank staff at a few branches in Tamil Nadu, Uttar Pradesh and Bihar. The situation is getting out of hand. We have sought police protection," general secretary of All India Bank Employees' Association CH Venkatachalam told the daily.
In a letter to the Indian Banks Association, Venkatachalam said: "We get reports of abusive language from customers for not being able to give them required cash due to reasons beyond their control. There are reports that due to shortage of cash, customers are asked to withdraw Rs 2,000 or Rs 4,000 instead of Rs 24,000 which they are eligible to, since there is inadequate cash balance in the branches."
He added that "displaying boards like 'No Cash', 'Cash No stock'... seriously erode the reputation of our banks in the eye of the common people. Adding to the problems, majority of the ATMs are still non-functional and this would add to the crowd and congestion inside the branch premises."
Several companies have given their employees a day off to go to the banks and collect their salaries, while others like Infosys, have arranged for mini-ATMs in their offices. Real estate and construction companies are helping their labourers open bank accounts since most of their payments are done in cash.
"We spoke to our banking partners to open accounts for the labourers working on our construction site. We do not want to hold on to people's salaries," director of ABA Corp Amit Modi told HT.
The Reserve Bank of India (RBI) has already put a Rs 10,000 per month withdrawal limit on Jan Dhan accounts to prevent misuse and check withdrawals from such accounts.
The RBI said that those having Jan Dhan accounts that are "fully KYC compliant... may be allowed to withdraw Rs 10,000 from their account in a month. The branch managers may allow further withdrawals beyond Rs 10,000 within the current applicable limits only after ascertaining the genuineness of such withdrawals and duly documenting the same on bank's record."
The RBI has done a 25 percent increase in the printing of Rs 500 notes on the instructions of the government and has, for the time being, stopped the printing of Rs 2,000 notes since both notes cannot be printed simultaneously. However, it will still take three weeks to have an adequate amount of Rs 500 notes in banks and ATMs.