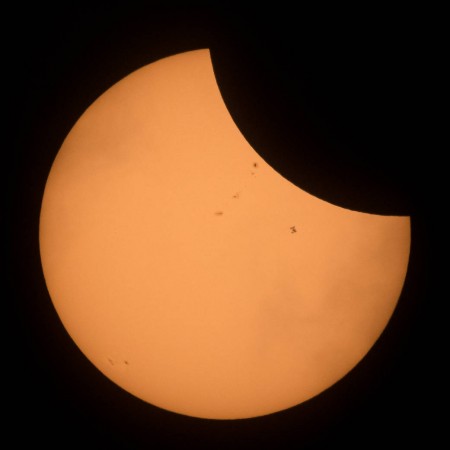 All the sky gazers can treat their eyes with the partial solar eclipse which will take place on Thursday, February 15.
The eclipse will be visible in various parts of the Southern Hemisphere, which will include southern parts of the Atlantic Ocean, Antarctica, and southern South America.
Argentina, Chile, and southernmost parts of Paraguay, Uruguay, and Brazil will be able to witness this celestial event, but this astronomical event will not be visible in India. You can watch the eclipse live online on this website.
"Scientists in proximity to the South Pole will be able to gaze through the entire eclipse. Those living south of the Argentine city of Rio Gallegos, and in the Falkland Islands, will be able to view the entire phenomenon before sunset," Indian Express quoted.
A solar eclipse takes place when the moon comes between the orbit of the Sun and Earth. The moon, Earth, and Sun aren't exactly lined up during the partial solar eclipse, but the moon casts a shadow on the surface of the Sun.
Partial solar eclipse takes place just a few days after the rare astronomical event super blue blood moon which took place on January 31.
The super blue blood moon is considered as a rare and special event because one can see a supermoon, a blue moon and a lunar eclipse at the same time during this celestial event.
When a total solar eclipse takes place, the moon blocks sunlight from reaching the Earth's surface and causes darkness for a minute or so. The partial solar eclipse takes place over a span of six months, compared to which the total solar eclipse is a rare astronomical event.
The last total solar eclipse took place on August 21, 2017 and it treated the spectators from the entire the US mainland.
The partial solar eclipse is likely to start at 5:43 pm local time in the Antarctic Peninsula, it will be visible for almost two hours and end around 7:34 pm according to reports.
It has been advised by NASA that looking directly at the solar eclipse is not safe, be it partial or total. People spectating the event should use special eclipse glasses and pinhole camera to catch this event and use solar filters while capturing the images and video of the event.
There are two more upcoming partial solar eclipses that will be taking place on July 13 and August 11 this year.