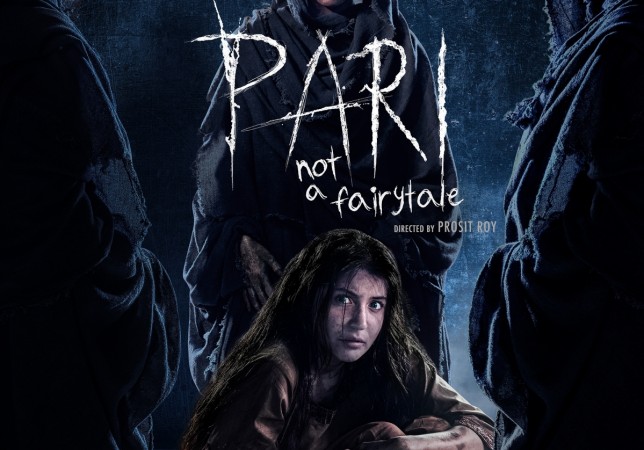 Pari movie starring Anushka Sharma that released in theatres on Friday, March 2, has received overwhelming reviews from Bollywood critics and celebrities.
Also starring Parambrata Chatterjee, the supernatural thriller will send shivers down your spine, say critics. Although the film has disturbing sequences, it doesn't leave viewers scared except for the weak-hearted ones. About Anushka, many critics said that she looked beautiful and horrific at the same time. Several celebrities too are raving Anushka's performance along with the audience.
This is the Ae Dil Hai Mushkil's third production after NH10 and Phillauri. While both the previous movies were of different genres, Pari too is another daring attempt of the diva and the genre is seldom touched by Indian filmmakers.
With Pari, Anushka's Clean Slate Films and Prernaa Arora's KriArj Entertainment's co-production, promises to take the horror genre in India a notch higher.
The teasers (screamers), trailers, and posters too have garnered a great response, and the positive word of mouth publicity is expected to pull the audience to the theatres, thereby earning good numbers at the box office. Directed by debutant Prosit Roy, the movie also stars Rajat Kapoor and Ritabhari Chakraborty in pivotal roles.
Below are some of the critics' reviews on Pari:
Chetna Kapoor of IBTimes, India said: "Well-made horror-thriller film. It is scary and will spook you till the end. Worth a watch! All the performances are phenomenal.
"The background score of a horror film is the most important factor, and its use in Pari will make you jump out of the seat or scream! Pari could easily have been 15-20 minutes shorter. The climax is bizarre. It just ruins the strong plot."
Renuka Vyavahare of the Times of India said: "Pari is an art-house, indie thriller which moves at its own pace, in its own unique way. It collates elements that are rare to find in commercial scary movies — eerie silence, haunting yet soothing melancholic music, an enchanting love story and an air of paranoia that grips you slowly and steadily.
If you like horror as a genre and prefer a genuine theme over a sheer succession of scary sequences, you will like this one, which isn't bound by the diktats of commercial cinema."
Anna MM Vetticad of First Post said: "Everything in Pari – from its art design to the background score and sound design (refreshingly non-grating considering the traditions of the genre in Bollywood), even the sketches accompanying the credits – works towards sustaining our sense of foreboding about what is to come in that next shot, around that next corner, behind that next door, beyond that next street, after that final name rolls off the screen.
Anushka Sharma is the perfect combination of innocent and enigmatic, frail and fearsome as Rukhsana. She delivers an image-defying performance that is designed to elicit pity and dread in equal measure, from the audience, and from Arnab."
Manjusha Radhakrishnan of Gulf News said: "Pari is the cinematic equivalent of a driver rubber-necking when there's an accident on the road. You know you must look away, but you just can't help yourself from turning your neck to the site of the accident. It's compelling but leaves you eventually disturbed. Watch this if you are in the mood for a gore-filled horror film."
Anita Iyer of Khaleej Times said: "The film isn't scary but it will leave you with an unsettled feeling. Pari has disturbing sequences -- like the birthing scene from the trailer -- that will gross you out and make you nauseous, at least the weak-hearted ones. Like any typical horror film in Bollywood, Pari resorts to using loud noises sporadically to startle you but fails miserably. Anushka climbs up, jumps on to humans, bites into dogs, hangs from the window, flies midair but doesn't really send shivers down your spine. All she manages to do is leave you disturbed."
Umesh Punwani of Koimoi said: "Hollywood, please take out the notepad and write down the stuff from Pari on how to make a non-cliched horror film. Surely one of the best in this genre & a must watch for the fans. Producer Anushka Sharma needs a special mention to make this possible."
Shubhra Gupta of Indian Express said: "Anushka Sharma plays Rukhsana with a great deal of bloody enthusiasm. You cannot accuse her of not trying hard, but the film is so poorly-written, and so scatter-brained that nothing can rescue it, not even a leading lady who is determined to do something different with her producing heft. Poor Parambrata Chatterjee is left trying to hold up the story, such as it is, and is the only one left standing."
Rohit Vats of Hindustan Times said: "Pari appears puzzled as if they don't know how to end what they started. Anushka Sharma's film attempts to look different than usual 'bhoot ki film', but in the end, finishes right where 1920 Evil Returns or Alone did. With 136-minute screen time, Pari doesn't head anywhere. It's jumbled, chaotic and bland. You may not want to let the clan spread."
Saibal Chatterjee of NDTV said: "One thing that Pari isn't is predictable. But that isn't good enough. It just isn't the sort of spine-chiller that the pre-release "screamers" would have us believe. It lacks the narrative consistency that its in-your-face methods needed in order to be truly effective. In the end, the makers of Pari try way too hard. The outcome is an extended blur that leaves you dazed but totally unimpressed."
Tushar P Joshi of Bollywood Life said: "A good horror film needs 3 things – a strong plot, a cast that understands the genre and a director who has some understanding of the human mind. Director Prosit Roy is able to do all of the above with ease.Pari does have its flaws. The first half is good but the second does get a bit lethargic.
If you love horror then Pari is a fitting tribute to the genre. I suggest sleeping with the lights on if you end up watching a late night show ! Yes, it's that good."
Avipsha Sengupta of Desimartini said: "The first half although gripping in terms of jump scares offers no insight into the story at all. The knots have been crafted with a lot of patience and the director indulges in carefully layering up the narrative, which sometimes even feel somewhat convoluted. But come the first few minutes of second half and the knot is opened with a quick pull that almost feels jerky to the pace of the film."
Here's what celebs have to say about Anushka's Pari:
Anushka's husband and cricketer Virat Kohli, praising her performance, tweeted that this is his wife's best work ever.
Watched #Pari last night, has to be my Wife's best work ever! ? One of the best films I've seen in a long time. Got quite scared but so very proud of you @AnushkaSharma ♥️

— Virat Kohli (@imVkohli) March 2, 2018
Jackky Bhagnani: Just saw #pari and I don't know if I will be able to sleep tonight @AnushkaSharma you were just too good !!!! A must watch
Amul Vikas Mohan: "What a brilliant and brave movie is #Pari hats off to the team to make this.. I absolutely love every minute of this one.. and @AnushkaSharma I lob you too.."
Mehreen Pirzada: "What a lovely film is #PARI @AnushkaSharma I've just become an even bigger fan, you know I always look up to you All my best wishes to @prosit_roy @OfficialCSFilms @kriarj"
Stay tuned for more updates.