Bollywood actress Anushka Sharma comes with a scary gift for fans this Holi. Her horror movie Pari released on Friday and is garnering immense appreciation from all quarters.
Celebrities and critics are praising the film and actress' performance, while the audience is also quite impressed.
Anushka is playing a devil for the first time. She will be seen possessed in Prosit Roy's directorial debut. The supernatural thriller also features Bengali actor Parambrata Chatterjee, Rajat Kapoor and Ritabhari Chakraborty in pivotal roles.
Pari, co-produced by Anushka's Clean Slate Films and Prernaa Arora's KriArj Entertainment, promises to take the horror genre in India a notch higher.
The film released in 1,565 screens worldwide – 1,400 in India and 165 in overseas.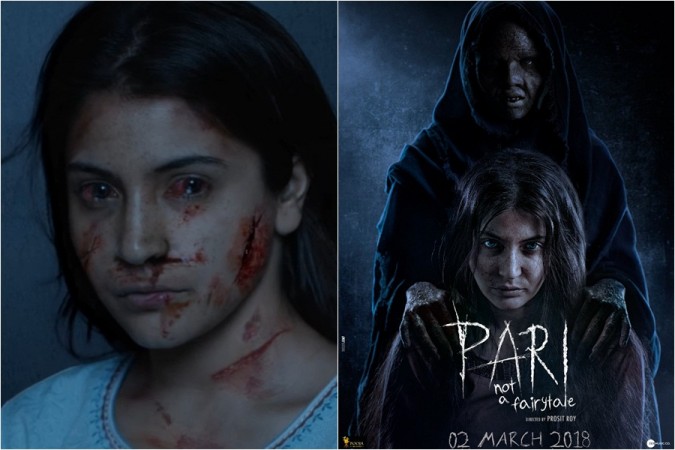 This is the third film under Anushka's production and is receiving a good response. Her first flick, NH10, garnered appreciation while Phillauri had received mixed reviews.
Interestingly, Pari is getting an amazing response despite being made on a minimum promotion. The makers didn't hold any promotional events or press conferences but the first day first show still reportedly witnessed 70-80 percent occupancy.
The screamers of Pari are wonderfully made. They give you a few seconds of scare and leave you curious about what will happen next. These screamer videos have actually turned out to be the best promotional technique and built the curiosity about the film.
Viewers are loving Anushka's performance and the storyline. Here's what they are saying about the movie:
Such a brilliant build-up. This is one of the best made horror films, till interval. #Pari @DMmovies

— Zinia Bandyopadhyay (@iamzinia) March 1, 2018
#Pari is way better than any horror films hindi cinema has seen recently.. great acting and cinematography.

— shafeek edoli (@shafeekedoli) March 2, 2018
#Pari is a mediocre horror flick with even an more bizzare climax. Virat Kohli, you are to be blamed for this!!!!!

— Ashwin Nayanar (@NayanarAshwin) March 2, 2018
#pari I just wanna say girl u nilead it wt a performance not only scary but also there is a msg I'm talk less ur cuteness .emotional.scary realy outstanding performance I will tell million times that I'm glad to have a idol like u I'm proud to be #Anushkaholic @AnushkaSharma 1/2

— Nayana (@im_nayana18) March 2, 2018
Just saw the most disturbing bollywood horror movie in years. Can't take those queasy visuals out of my mind. @AnushkaSharma sheds her bubbly and glam image to terrify the hell out of us. Also appreciate her for backing such a movie. I root for her as a producer! #Pari

— Om Kumar Jha (@Omkumarjha77) March 2, 2018
#Pari is a rare horror movie which includes lot of social messages and staying connected with amazing storyline and some dark comedy too... Perfect horror movie anyone can imagine.. @AnushkaSharma love frevr, mam you ll always be my favorite for making such experimental stuff.. pic.twitter.com/ydIUhtADYo

— Mahesh Sharma(Maahi) (@Maheshksharma23) March 2, 2018
Saw #Pari and its just WOW...
I dont think any words will be able to justify the film and performance.@AnushkaSharma your performance was brilliant, it need guts to do these type of role and movies.
You r definitely a superb actor and your choice of films and roles are too good

— monica arora (@monica_sunil) March 2, 2018
15 mins into the movie and u already get some creeps... you know this is not a regular bollywood horrror.#Pari review #watchornot

— Prateek ghosh (@Pg_WatchorNot) March 2, 2018