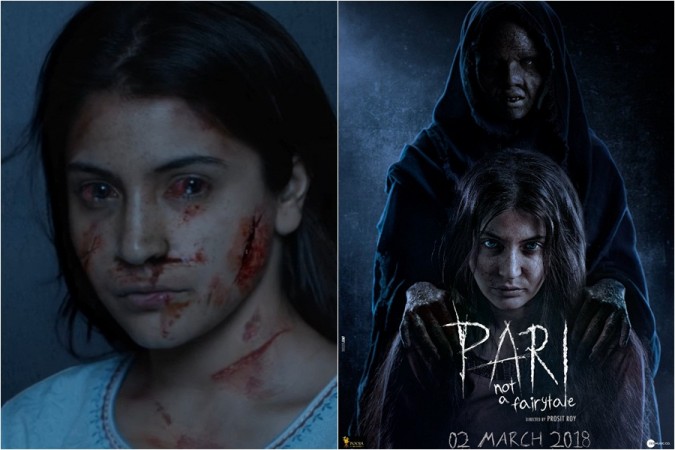 Anushka Sharma is all set to scare you with her upcoming horror movie, Pari, slated for a March 2 release. The movie is co-produced by Anushka's Clean Slate Films and Prernaa Arora's KriArj Entertainment. While the norm these days is to promote movies, there has been no promotional event held for the film.
Anushka has not held any promotional events, nor has she given any interviews to any medium. Why may we ask? When we brainstormed a little we figured out, that it is their actual marketing strategy.
Their no promotion technique was actually how the makers were promoting Pari. We have jotted down five interesting ways in which the makers have promoted Pari:
No promotion builds more curiosity
When an actor is not there for promotional events and is not talking about the film, it will automatically build up more curiosity. Anushka has not held any promotional event or press conferences to answer queries about the movie. In fact, there was no trailer launch event. The makers are keeping it under the wraps which have made us more curious about the film.
No proper description about the movie
Once the trailer is launched, Bollywood movies' description appears on IMDb or their Wikipedia pages or the YouTube description section. While the trailer is garnering great reviews and tells you that Anushka is possessed and it's a supernatural thriller, there isn't any in-depth description about the movie, which in turn is good for creating that mystery and curiosity around the movie. A good marketing strategy to bring in maximum footfalls in theatres.
Movie screamers
Call it teasers or in Pari's language screamers, they are definitely nail-biting and a little scarier than the trailer itself. The screamers of Pari are wonderfully made and gives you a few seconds of scare making you wonder and look forward to what will happen next. These screamer videos have actually turned out to be the best promotional technique.
Online promotion
The makers are not organising promotional events, but the online marketing is going really strong. From GIFs to Facebook filters, Pari has used the internet medium to the fullest.
Pari's characters' statues in theatres
Statues are being put in theatres. It has Anushka's character and the devil's character statues and the actress has posted the pictures on social media. This will definitely grab viewers' attention. Good way to promote a movie without actually organising any conference or event.
Directed by debutant Prosit Roy, Pari also stars Bengali actor Parambrata Chatterjee, Rajat Kapoor and Ritabhari Chakraborty in pivotal roles.