As the face-off between India and China intensifies, Pakistan decides to stoke up the fire. According to Dawn, Pakistani Prime Minister's Adviser on Foreign Affairs Sartaj Aziz said on Monday, July 3, that India is reaching out to the US to put pressure on China and it is making it evident that New Delhi is facing "isolation" in the region.
Speaking to delegates from the Kashmir Journalists Forum, Aziz said the US appeased India by designating Hijbul Mujahideen leader Syed Salahuddin as a terrorist during Prime Minister Narendra Modi's recent visit to Washington and meeting with US President Donald Trump. The Pakistani official also said that his country was not bound to abide by the decision on Salahuddin since the declaration was not made by the United Nations, the world body.
Highlighting the ongoing turmoil in Jammu & Kashmir, Aziz said the Kashmiris were getting support from the international community and that Pakistan was only offering it political, diplomatic and moral support.
Pakistan is so excited that China has taken on India
The Pakistani narrative has found a favourable time to make itself relevant. With India having locked horns with the Chinese, nothing else would have worked better for the Pakistanis now to target its arch-rival, and especially the raging fire in Jammu & Kashmir.
The Narendra Modi government needs to take the Pakistani motives seriously. For New Delhi, an Islamabad-Beijing nexus is formidable enough to challenge its neighbourhood policy and as long as the standoff in the Sikkim sector continues, India's military capacity will not only be strained but even its diplomatic war fronts will multiply.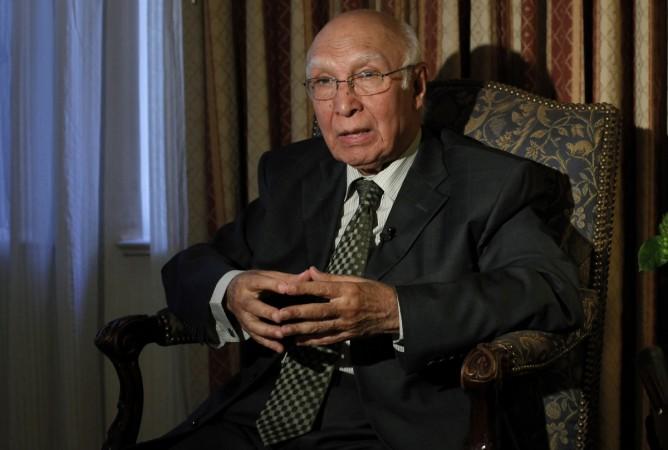 The situation will be akin to that which had prevailed prior to the 1971 war. Pakistan willingly chose the word "isolation" to put more pressure on India and dilute its efforts towards isolating Islamabad in South Asia by engaging with Pakistan's others neighbours like Afghanistan and Iran.
India needs to refrain from taking a jingoist stance vis-a-vis its neighbours and let heads cool down. The army chief's remark that it is ready to fight war on two-and-half fronts has only made things more complicated for the Indian establishment. The belligerent media of the country is not helping South Block's cause by setting agenda which will help its TRPs but not relations with the neighbours.
Modi is doing excellently on the foreign policy front but in the domestic politics, there are issues that have the potential to indeed leave India isolated on the international stage. The growing divisiveness in the country needs to be bridged by Modi or else countries like Pakistan that have struggled on several fronts will gain the audacity to mock India.