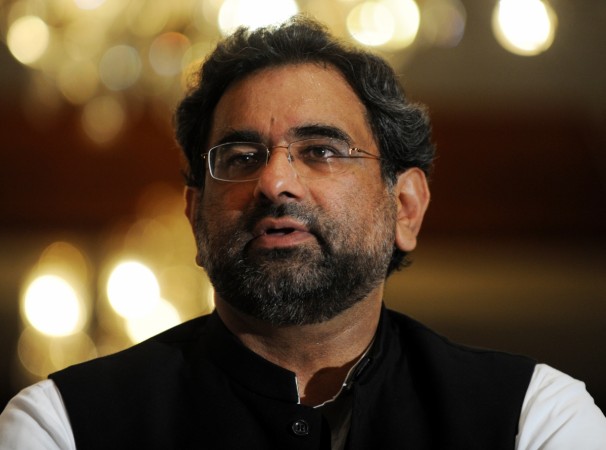 Pakistan suffered a massive blow of embarrassment as the country's prime minister, Shahid Khaqan Abbasi was frisked at an American airport, as a part of a routine security check, as reported on Wednesday.
The video, that has gone viral on social media, shows Abbasi dressed in a maroon polo tee shirt and black trousers. He can be seen putting on his belt after clearing the security, followed by picking up his coat, bag and walking away just moments later.
Abbasi's 'private trip' to the US was to visit his ailing sister. But turns out he also met US vice-president Mike Pence in what was an unscheduled meeting, wherein he was bluntly told that Pakistan has to contribute and engage further in addressing worldwide concerns about its nurturing of terrorist groups, reported the Times of India.
Reports revealed that the incident took place last week at the JFK airport in New York, and has managed to spark rage amongst the Pakistani media since then, especially amidst reports that Trump administration is considering banning visas and other sanctions on people in the Pakistani government.
Their media has also slammed Abbasi for not lodging any protest or complaints of sorts with the US authorities' treatment toward him – thereby letting the people of the country down.
"He should be ashamed for saying he went on a private visit. He is the prime minister, he has a diplomatic passport …there is no such thing as a private visit. He is representing the country, there are certain protocols when you are representing 22 crore people," one of them said, on how Pakistan had been humiliated owing to Abbasi bringing shame to the country, as Time of India reported.
This fury of Pakistani media arrived shortly after the US put sanctions on seven Pakistani companies, putting them on its "Entity List" – which makes it harder for them to operate in the country, regarding their alleged links to nuclear trade.
Over the years, Pakistan and US's relationship has frayed and recently Foreign Policy magazine also reported that the Trump administration is 'weighing unprecedented political penalties' on Islamabad for harboring Afghan militants that waged war against the US aided government in Afghanistan.