India on Thursday gave a strong reply to Pakistan Prime Minister Shahid Khaqan Abbasi's speech at the United Nations General Assembly (UNGA) in New York, calling the nation "Terroristan -- with a flourishing industry producing and exporting global terrorism."
India's Enam Gambhir, in its Right of Reply at the UN, hit out at Abbasi for bringing up the Kashmir issue, and said that Jammu and Kashmir is and will remain an integral part of India.
Abbasi brought up the Kashmir issue in his maiden address at the UNGA session on Thursday and urged t UN to appoint a special envoy to Kashmir. Abbasi claimed that the people's struggle in the region is being "brutally suppressed" by India.
"However much Pakistan scales up its cross border terrorism, it will never succeed in undermining India's territorial integrity. Even as terrorists thrive in Pakistan and roam its streets with impunity, we have heard it lecture about protection of human rights in India," the Indian representative at the UN, Gambhi said in response to Pak's speech.
"It is extraordinary that the state which protected Osama Bin Laden and sheltered Mullah Omar should have the gumption to play victim," the representative added.
Abbasi had also accused India of indulging in state-sponsored terrorism against Pakistan, specially from the western border and warned New Delhi of a "matching response"if it "ventures across the LoC (Line of Control)" or acts upon its doctrine of limited war against Pakistan.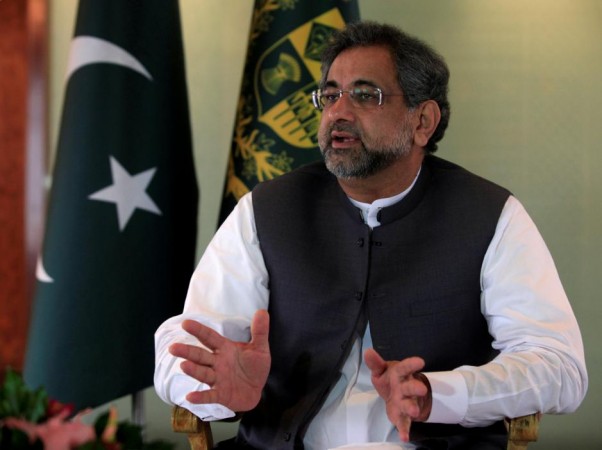 "India refuses to implement the unanimous resolutions of the UN Security Council, which mandate a UN supervised plebiscite to enable the people of Jammu and Kashmir to freely decide their destiny," Abassi said in New York.
India hit out at Pakistan saying that the "world does not need lessons on democracy and human rights from a country whose own situation is charitably described as a failed state."
"'Terroristan' is in fact a territory whose contribution to the globalisation of terror is unparallelled."
India added that Pakistan can only be counselled to abandon a destructive worldview that has caused grief to the entire world
"If it could be persuaded to demonstrate commitment to civilisation, order and peace, it may still find some acceptance in comity of nations," India said.