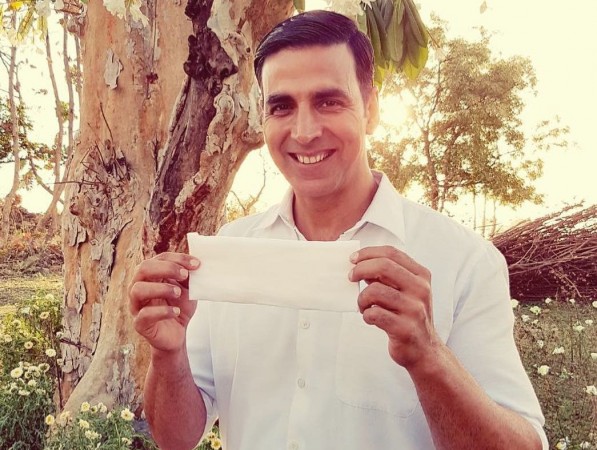 Indian movie PadMan, which opened in theatres on February 9, raises awareness about a social issue – menstrual hygiene and menstruation, which are still considered taboo in India. But some Indians are enraged and the reason, the way it has been promoted.
The film is based on a real-life story of Arunachalam Muruganantham, who created cheap sanitary napkins for the women of his village in Tamil Nadu, India. This is for the first time a Bollywood film has focused on the subject of sanitary napkins and menstruation.
With the movie, Akshay Kumar, who portrays the character of Muruganantham, is trying to break the taboo and making people talk about menstrual hygiene. He took the help of social media to raise awareness and also to promote his movie, but not many were happy with the promotional campaign.
The promotional strategy involved several Bollywood celebrities posing with sanitary pads. Aamir Khan, Ranveer Singh, Deepika Padukone, Sidharth Malhotra, Katrina Kaif, Anushka Sharma, Varun Dhawan, Sonam Kapoor and Radhika Apte among others posed with a sanitary pad and shared the photo on their Twitter or Instagram profiles.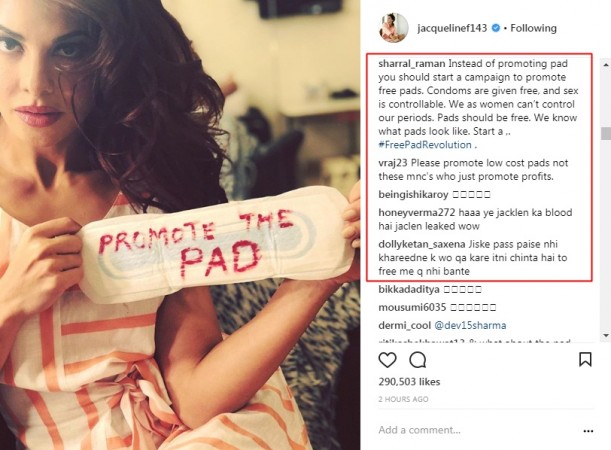 However, several slammed the promotional strategy and said that the stars are wasting sanitary napkins. Bollywood actress Jacqueline Fernandez had to face the ire of social media users when she posed with a pad that had a lipstick stain. The actress used red lipstick to write "promote the pad" on the napkin.
While we agree that Jacqueline wasted a napkin, which could have been used, we wonder why Twinkle Khanna or team India head coach Ravi Shastri were trolled on Twitter.
Several even expressed their displeasure and said that the actors can do anything for publicity.
"I think it looks good when all the well-known faces of the Bollywood industry hold a pad in their hands and promote a movie. Now the issue is that the awareness stops there, as no one but the film benefits from the promotional activity. Had there been a strong message with holding a pad then it might have brought some change," Sruthi Venkatramani, HR professional, told IBT India.
"There are many rural villages and interiors where people are still using sand, rugs, leaves etc. More than that they don't have access to TV, let alone watch the movie and understand the real essence of the movie. If they wanted to make a change, then each actor could have gone to these areas and distributed pads and made them aware of menstrual hygiene."
Meanwhile, Venkatramani is not the only one who thinks this way. Echoing her thoughts, Shreya Iyer, a media professional added: "I think the PadMan challenge on a larger scale defeated the whole purpose of creating a difference or even creating an awareness. There are still many rural areas where even today women aren't aware of sanitary pads and the topic itself is considered a taboo. I think, to make an impact about the awareness they should have donated sanitary napkins in these areas along with imparting knowledge in these quarters of the society."
Some even took to social media to talk about it.
"People still buy sanitary napkins wrapped in newspaper and handed in black plastic bags. I think holding a sanitary napkin in public to remove the taboo does make sense," social media user Mirchista tweeted.
"#Padman team and #Bollywood thinks holding sanitary napkin will.do social awareness.... Like people who need such guidance uses Instagram. #PadManChallenge #educated_illiterate #india #cheap_publicity #promotion_ke_liye_kuch_bhi_karega," Twitter user Unmesh Teli said.
"Menstruation is indeed a Taboo in India but dear Celebrities posting a picture with Sanitary Napkin on social media is a dumb campaign. It just doesn't tap to Rural/Village India where it's considered the "most taboo". You are not creating an awareness but just promoting a movie," King_Drunkard_IV said.