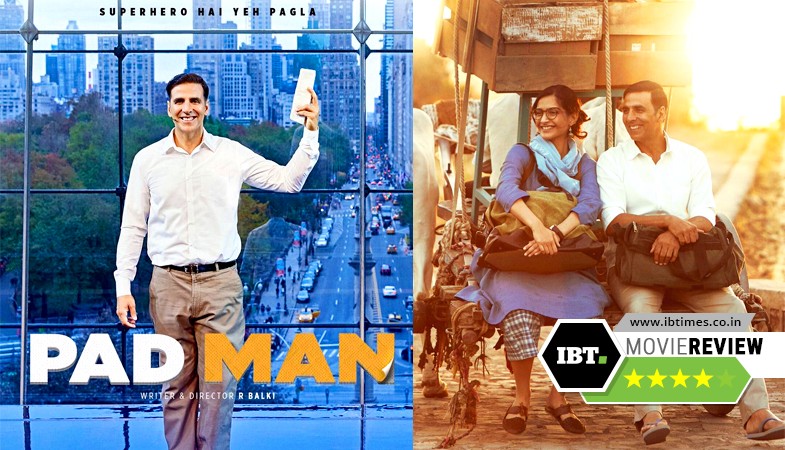 Rating: 4
Starring: Akshay Kumar, Radhika Apte, Sonam Kapoor
Story
Lakshmikant Chauhan (Akshay Kumar) is a married man who causes havoc in his village when he tries to convince his wife (Radhika Apte), sister and other girls to wear sanitary pads.
With a lot of opposition and conservative thinking, Lakshmi is forced to leave the village after his wife decides to leave him. Then begins the revolution as he starts manufacturing sanitary napkins on his own and gets recognized worldwide with Pari's (Sonam Kapoor) help.
The film is based on the real-life story of Arunachalam Muruganantham from Tamil Nadu, who invented a machine to create low-cost sanitary napkins and revolutionized menstrual hygiene in rural India.
Akshay Kumar
Even though he has carved his niche in Bollywood and people say he will now do only biopics or social dramas. He still manages to take his acting a notch higher with every single film. And this was no different.
He will make you laugh and cry at the same time. Oh, the scene when he gets his first feedback (from Sonam Kapoor) after making his "perfect" sanitary napkin will touch your heart.
R Balki shows a striking difference in thinking between villagers and city-dwellers when it comes to sanitary napkins or a topic like chums. And Akshay Kumar smoothly manages to tackle both in his own way. Hats off to him for brilliantly doing the "wearing the pad yourself" scene. I cannot imagine any other actor doing that.
And special mention to Twinkle Khanna, whose debut production is nothing less than gutsy and classy! PadMan belongs to Akshay Kumar because he is the soul and his sincere acting will make you connect with him. You will smile when he gets the "invention award", you will cry when his wife leaves him, and you will cheer for him when he is giving that brilliant "Linglish" speech.
Radhika Apte
Oh, she is excellent! I wonder why this woman hasn't got any awards for acting. She has wonderfully supported Akshay Kumar. In fact, I was hooked to her when she shared the screen space with him because she was genuine and outstanding. Their chemistry was honest and beautiful. Her character Gayatari was a timid wife, and showed exactly how women in some parts of India still think that it's better to die of shame than to die of "illness" (caused by lack of menstrual hygiene).
Sonam Kapoor
Neerja was released in 2016. It's 2018. After a long break, Sonam as Pari in the film, I felt, was not impactful. She is a tabla player and that's about it. Don't know how much value she brought to the film, but her dressing style was definitely on point. With those beautiful kurtas, she sure showed a different side of a Delhi girl. She also shone in the romantic scenes with Laksmi. Where did it end up? Watch the film for that.
Positives
Director R Balki has handled the taboo subject of periods and menstruation very well and made it a worth-watching commercial film. The dialogues are worth a whistle — especially the climactic speech.
Shot on location in Madhya Pradesh, Indore, New York and Delhi, the film sails smoothly and won't bore you even for a minute. The second half of the film is powerful.
A special mention to the real superhero — Amitabh Bachchan, who appears in the film at a crucial moment.
Negatives
The first half was a little draggy and felt like a lot of "gyaan" or typical advertisement. The film could have been short. The music was just okay by Amit Trivedi.
Verdict
A must-watch film. Don't hesitate or feel awkward when taking your kids for this one. They need to know. Period.