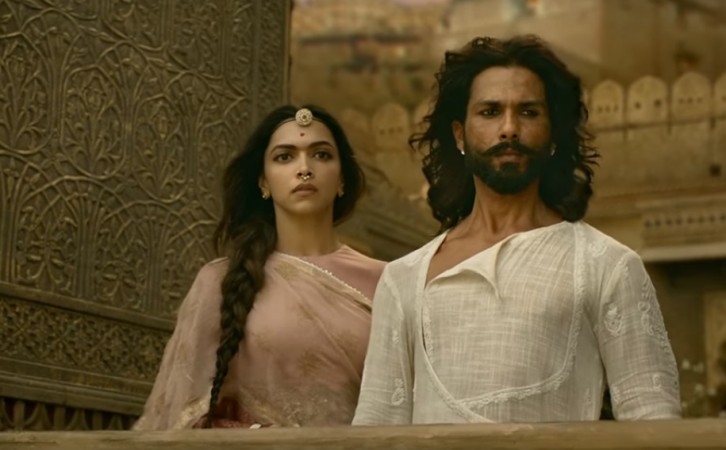 Even as violent protests against Sanjay Leela Bhansali's Padmaavat continued ahead of the film's release on Thursday, January 25, cinema owners in four states – Rajasthan, Gujarat, Madhya Pradesh and Goa – have decided not to screen the movie till the issue between Karni Sena members and Bhansali is revolved.
Disgusting! Right wing trolls leak Padmaavat director Sanjay Leela Bhansali's phone number to harass, abuse him
"We have decided not to play the film in four states—Rajasthan, Gujarat, MP and Goa—as the local management has told us that the law and order situation is not conducive," Deepak Asher, president of the Multiplex Association of India said, the Times of India reported. Uttar Pradesh too is uncertain whether to screen the movie or not.
Padmaavat row: Man tries to self immolate outside cinema hall, Bajrang Dal also joins Karni Sena in protest
The Law and order situation in Rajasthan is peaceful besides two minor incidents in Jalore and Udaipur, says Gulab Chand Kataria, Rajasthan Home Minister
Law&order situation is peaceful across the state. Only 2 minor incidents have been reported in Jalore& Udaipur. If multiplexes ask for protection we'll certainly give it to them.Appeal people to protest peacefully, not take law into their hands: Rajasthan Home Minister #Padmaavat pic.twitter.com/Wrp5NdVovO

— ANI (@ANI) January 25, 2018
In Haryana, those theatres ready to screen Padmaavat are provided full protection.
All theaters provided with adequate protection. Things peaceful now. If someone is found getting involved in unlawful activities, they would be immediately arrested & strict action will be taken. Govt is providing full protection to those ready to screen #Padmavaat: DGP Haryana pic.twitter.com/lDP3drLmfR

— ANI (@ANI) January 25, 2018
Security in Dehradun has been tightened as multiplexes run houseful.
Padmaavat to release in Punjab: Rajput leaders say 'it has nothing objectionable against community'
All the vehicles are being checked and every person is being frisked. All the shows were houseful yesterday. It was peaceful yesterday and so will be today. We are prepared for all situation. Arrests will be made if need be: Pradeep Rai, SP (City) Dehradun #Padmaavat pic.twitter.com/ec1Zzj9IOP

— ANI (@ANI) January 25, 2018

Situation in Uttar Pradesh, Jharkhand and Bihar worsen. Multiplex owners cancel Padmaavat shows.
In Rajasthan, Karni Sena stages bike rally to protest against the movie, which will not be screened in the state.
Padmaavat Movie Review: Deepika Padukone's beauty, Ranveer Singh's rage and Shahid Kapoor's valour are magnificent
Despite no screening of Padmaavati, security has been increased in Gujarat:
However, cinema and multiplex owners in five Southern states and West Bengal are going ahead with the screening of Padmaavat without any hassle. Cinema owners in Delhi, Punjab, Uttarakhand and Himachal have also decided to screen the film as per schedule.
In Mumbai, security has been increased with the release of the movie:
The Mumbai police force is geared up to take action against miscreants who try to create a nuisance while protesting against the release of Padmavaat, an official told India Today.
In Punjab, the Rajput Mahasabha in Punjab withdrew its opposition to Padmaavat after leaders from the community inclduing president Davinder Darshi watched the movie at a special screening in Pathankot.
Padmaavat Paid Preview box-office collection: With packed houses and protests, film manages a decent start
The film is being released in three different languages – its original version in Hindi and dubbed in Tamil and Telegu. "As on Wednesday evening, it is getting released in about 600 screens across the five southern states," a source in Viacom 18 Motion Pictures told the daily.
Although Maharashtra is expected to have a smooth sail, Minister for Tourism Jaikumar Rawal appealed to people against watching the controversial film. According to DNA, when Rawal was asked if it was fair on his part being a minister to make such appeal, he said that he is also a human being and would not like people to watch a distortion of history.
Meanwhile, Padmaavat starring Deepika Padukone, Ranveer Singh, and Shahid Kapoor has received rave reviews from Bollywood critics and celebs.
According to critics, Ranveer and Deepika have delivered their career-best performances. The vibrant cinematography, melodious soundtracks, and brilliant dialogues have enthralled the critics and celebs. Overall, the period drama is entertaining and engaging throughout.