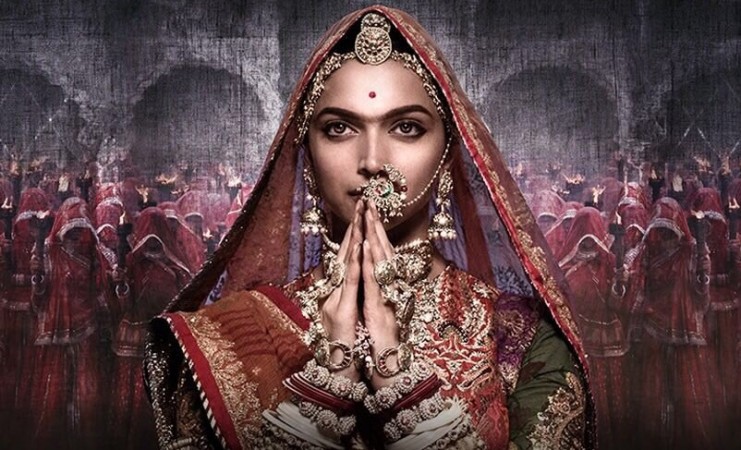 Sanjay Leela Bhansali's Padmaavat (initially titled Padmavati) starring Deepika Padukone, Ranveer Singh and Shahid Kapoor is set to release on Thursday, January 25. It has received great reviews from Bollywood critics and celebs.
In Pics: Padmaavat special screening | Deepika at Siddhivinayak temple | Padmaavat new stills
According to critics, Ranveer and Deepika have delivered their career-best performances. The vibrant cinematography, melodious soundtracks and brilliant dialogues have enthralled the critics and celebs. Overall, the period drama is entertaining and engaging throughout.
No end to Bhansali's troubles: Padmaavat poet's village demands profit share, Rani of Chittorgarh speaks up
Some of the critics felt that Padmaavat is a beautiful epic drama and every scene hails Rani Padmavati's greatness. Bhansali captured every scene with utmost care and took care of minute details including costumes.
The period drama had stirred a controversy for allegedly distorting historical facts. Rajput Karni Sena has been protesting that the makers remove scenes that tarnish Rajput pride. In fact, the Rajput Karni Sena has announced nationwide bandh on Padmaavat's release day (January 25).
Padmaavat: 5 powerful reasons to watch Sanjay Leela Bhansali's magnum opus
Padmaavat is an epic period drama based on the life of Queen of Chittor, Rani Padmini, believed to have existed in the 13th-14th century. Shahid plays the role of Padmini's husband, Raja Ratan Singh while Ranveer the negative role of Alauddin Khilji.
This is the first time that the Udta Punjab actor is working with Bhansali. Deepika and Ranveer have earlier teamed up with the ace filmmaker in Ram Leela and Bajirao Mastani.
Check out the critics' reviews on Padmaavat:
Critic and trade analyst Taran Adarsh said: "On the whole, PADMAAVAT is a remarkable motion picture experience that's backed by proficient direction, spellbinding screenwriting and superlative acting. For Sanjay Leela Bhansali, it's the best title on an impressive filmography. A sure-shot winner at the box-office!"
Meena Iyer from DNA: "Fortunately, there is yet another disclaimer saying that the film does not propagate the custom of sati. That having been made clear, the jauharscene in the film is a highlight. And it leaves you teary-eyed. Padmaavatis definitely worth a watch, for its scale, story-telling and stellar performances from the lead."
Popular critic Umair Sandhu said: "Bhansali makes sure the actors get major acting opportunities this time. Ranveer Singh is stupendous and clearly in top form.The effortlessness with which he gets into the skin of the character is noteworthy."
Anant Vijay said: "Today watched #Padmaavat. Wonderful film, no scene of any type which is objectionable. Rather Rajput Community is glorified."
Mayur Sanap from Deccan Chronicle: "It's the kind of film that tries too hard to get your attention in the runtime of almost three hours. In the second half, though, the film finds its pace and you are swept into the roller-coaster ride of Rani Padmavati's political and personal growing-up journey."
Rachit Gupta from Filmfare: "This film is rich in detail, still tells a compelling story with grit and gumption. Sure, the verdict over the jauhar bit will always be open, but the build up to that moment is all class. For a film that doesn't have a surprise for its ending, Padmaavat still manages to create a lot of thrill. It's a must watch."
Swetha Ramakrishnan from Firstpost: "The intent to make great cinema is visible: in the indulgent, colourful frames that have almost become synonymous with Bhansali's films. The rumours are right: there's ample celebration of Rajput honour in Padmaavat. Their courage and valour is almost like the elephant in the room, being brought up even in the most tense and violent moments in the film. But the flip side to this is how the film chooses to tie loose ends."
Urmimala Banerjee from Bollywood Life: "Sanjay Leela Bhansali's film is a visual delight and thoroughly entertaining fare, courtesy the epic performance by Ranveer Singh. It talks about Rajput pride and there is nothing that will offend anyone. At least, I couldn't find anything that can be termed offensive in anyway. And there is no dream sequence between Khilji and Padmavati."
Raja Sen from NDTV: "What I would like to know is why Padmaavat isn't a better looking film. Bhansali is all about scale and there is indeed pomp to the proceedings, but this time the sets always look like sets - sometimes with the 'carvings' on pillars in the background visibly looking drawn on.
Still, there are some lovely touches in Padmaavat. The fluttering fabric of the palanquin the queen is carried in when her king brings her home, the way the villain's shoulderplates bounce as he runs with feverish urgency, the sight of an imposing crown being used to weigh down and blind a fragile princess."
Ankur Pathak from Huffinton Post: "The film is a luxuriously-mounted, visually resplendent work of art that holds and sustains your attention throughout its over 2 hours 30-minutes running time.
It reveals Bhansali's directorial prowess and further solidifies the acting credentials of both, Padukone and Singh while exhibiting the yet-unexplored acting finesse of a gifted performer, Jim Sarbh. Ultimately, Padmaavat is a tragic tale sourced from romanticized Rajasthani folklore and if you can keep your modern, gender-conscious lens momentarily aside, you might actually enjoy it."
.#Padmaavat is an epic tale of love,valour n honour Ranveer has given a performance of a lifetime.Deepika is beautiful,stoic n strong.Shahid's restrain is spectacular.
It's a unique cinematic experience. Watch!!! pic.twitter.com/mygrFvsfDJ

— Faridoon Shahryar (@iFaridoon) January 23, 2018
Coming to celebrities who have expressed their views on Padmaavat are:
Alia Bhatt:
Neil Nitin Mukesh: Just witnessed HISTORY. Felt like I was right there. Every second of watching this epicness made me a bigger fan of #SanjayLeelaBhansali the GOD of Indian cinema. #Padmavat
Kritika Kamra: #Padmaavat has been watched. Mind has been blown.Yet again.Drama/less drama..I just LOVE the world that #SanjayLeelaBansali creates-the art,costume design,production design,music.I'm a fan of his http://cinema.No matter how long his films are I watch them awestruck.
Stay tuned for more updates