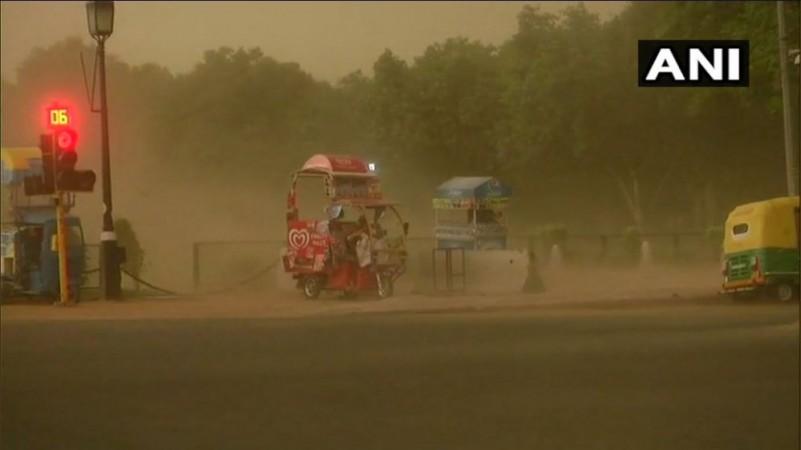 Weekend plans went for a toss for residents of several parts of India as many states saw rough weather conditions Saturday and Sunday, May 12-13. Dust storms, thunderstorms and rain wreaked havoc in Delhi-NCR, Uttar Pradesh, West Bengal and Andhra Pradesh to name a few over the weekend, killing at least 41 people and leaving behind a trail of destruction.
The northern state of UP received heavy rains, thunderstorms and hail, which killed about 18 people, reported the Press Trust of India. About 12 residents of West Bengal, including four children, lost their lives and Andhra Pradesh lost nine of its residents. Two deaths were also reported in Delhi.
Condoling the deaths, Prime Minister Narendra Modi also took to Twitter and said: "Saddened by the loss of lives due to storms in some parts of the country. Condolences to the bereaved families. I pray for the speedy recovery of those injured."
The Delhi-NCR region and Uttar Pradesh saw quite some disruption with the metro trains being temporarily terminated and airport runways being shut down due to the severe weather conditions. The blue line of the Delhi metro was cut off after a tree fell on an overhead equipment cable.
Hundreds of flyers travelling to and from Delhi also faced difficulties after runways of the Indira Gandhi International Airport were shut down for a while. Several flights were cancelled, delayed or diverted, and airlines kept their passengers updated via text messages and their social media handles.
Same was the case at the Netaji Subhash Chandra Bose International Airport in Kolkata and several flights were canceled and delayed. Many carriers were also forced to divert the planes to Bhubaneswar in Odisha and other nearby airports.
Apart from these states, thunderstorms were also recorded in many parts of Punjab, Haryana, Uttarakhand, Chandigarh, Himachal Pradesh, Madhya Pradesh, Jharkhand, Assam, Meghalaya, Maharashtra, Karnataka, Kerala and Tamil Nadu.
Meanwhile, it looks like these weather conditions are here to stay at least for the next 72 hours. The Indian Meteorological Department has said that regions between Jammu and Kashmir and Andhra Pradesh is likely to witness light to moderate rains accompanied by strong gusts of wind.
"Thunderstorm accompanied with gusty winds are also very likely at isolated places over Punjab, Haryana, Chandigarh, Delhi, west Uttar Pradesh, Vidharbha, Chhattisgarh, Bihar, Telangana, north coastal Andhra Pradesh, south interior Karnataka, Tamil Nadu, Puducherry, Lakshadweep and Kerala," the IMD had said in an advisory.
The hill states of Jammu and Kashmir, Himachal Pradesh and Uttarakhand in the north and Meghalaya, Nagaland, Manipur, and Tripura in the northeast are also likely to receive rainfall and thunderstorm.