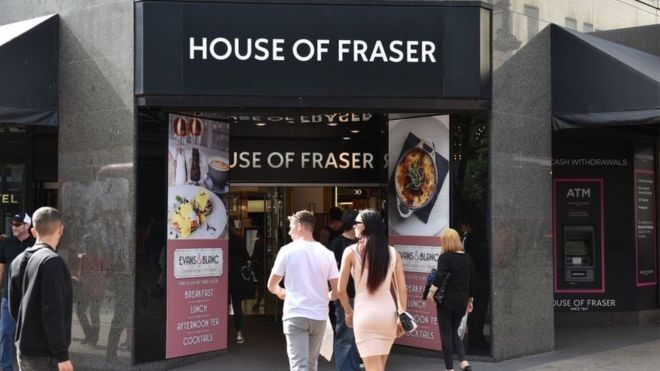 Iconic British department store chain House of Fraser has gone into administration after talks with investors and creditors failed to reach any solution.
The fate of 169-year-old House of Fraser, which employs 17,500 people, was sealed when C.banner, a Chinese company, pulled out of a deal to pump in money earlier in the month and this sounded the death knell for the store. The latest development has likely put thousands of jobs at risk.
Administrators Ernst & Young say House of Fraser would continue trading and all its 59 shops, including 31 that were going to be closed as part of restructuring agreement would remain open for business as it attempts to sell the business and its assets.
What does going into administration mean?
The administration is invoked when a company becomes insolvent – its debts get bigger than its assets. The firm's management is taken over by insolvency practitioners. Once this happens, all legal action against the firm is stopped for two months.
During this period, the administrator takes control of all assets and business operations and acts in a manner, which is in the best interests of the creditors so that they can repay them as much as possible.
So what went wrong for House of Fraser?
1. The internet
The advent of the internet has had an adverse influence on traditional brick and mortar stores, with digital retailers like Amazon dealing a body blow from which very few stores have recovered.
House of Fraser was slow to latch on to the changing internet landscape. As far back as 2004, trade body, Interactive Media in Retail Group called it an 'online laggard' for failing to grasp the trading opportunities that the internet provided.
2. No unique selling product
All is not gloomy despite the rise of internet and it is presumptuous to assume that every traditional store is doomed but people need a reason to visit them whether virtually or physically.
House of Fraser took over many smaller department stores like Dickins & Jones, DH Evans and Army & Navy but in doing so, it killed diversity of High Streets and failed to replace these brands with a unique product of its own. This resulted in a lack of pulling power to woo customers and fight off rivals.
What made it worse was the fact that a lot of stuff sold within the stores was not House of Fraser's; it was sold by more than 600 third-party concession workers. As a result, the store's own brand took a back seat.
3. One store too many
According to analysts House of Fraser should have cut down the number of stores it had many years ago. But instead, it went on acquiring more assets, often with expensive lease agreements made by previous owners.
When it initiated the rescue plan, House of Fraser had 59 stores in the UK, comparable to John Lewis and less than Debenhams but these two have been more successful in reinventing themselves and staying relevant in a very competitive marketplace.
4. Ownership and management issues
The last decade and a half have been turbulent for the group as its ownership changed twice.
Amid all the confusion and takeovers, what was clearly lacking at House of Fraser was long-term planning and strategy.
The uncertain period kicked off in 2003 when Tom Hunter, a Scottish billionaire, made an unsuccessful hostile bid.
More attempted takeover bids were made till 2006 when it was sold to a Baugar-led consortium for £351 million. Seven years later there was yet another takeover talk with Galeries Lafayette, a French department store.
In 2014, Chinese department store group Nanjing Xinjiekou, part of Sanpower, bought House of Fraser for £480m.
Management of the chain fell victim to 'revolving door' syndrome. The appointment of current chief executive Alex Williamson in July 2017 was controversial as he had no retail experience having previously worked for nine years at sporting company Goodwood.
His predecessor Nigel Oldy was in the hot seat for less than two years when he quit in November 2016, leaving the company without direction just before Christmas, the main shopping period of the year.